Space Flight Laboratory (SFL) and its sponsors have been honored by the Canadian Aeronautics and Space Institute (CASI) for the highly successful CanX-4 and CanX-5 nanosatellite precision formation flying mission — CASI presented the mission team with the 2018 Alouette Award for outstanding contribution to advancement in Canadian space technology.

Established in 1998 at the University of Toronto Institute for Aerospace Studies (UTIAS), Space Flight Laboratory (SFL) was the developer of the CanX-4/CanX-5 nanosatellite mission launched and completed in 2014.

CASI president Dr. Jacques Giroux bestowed the Alouette Award to members of the CanX-4/CanX-5 team: Dr. Jean-Claude Piedboeuf of the Canadian Space Agency, Dr. Brad Wallace of Defence R&D Canada, Dr. Cameron Ower of MacDonald Dettwiler & Associates, Richard Worsford of Ontario Centers of Excellence Inc., Doug Sinclair of Sinclair Interplanetary, and Dr. Robert E. Zee of SFL. Contributions to the successful mission also include control algorithms from Prof. Christopher J. Damaren of UTIAS and navigation algorithms from Profs Susan Skone and Elizabeth Cannon of the University of Calgary.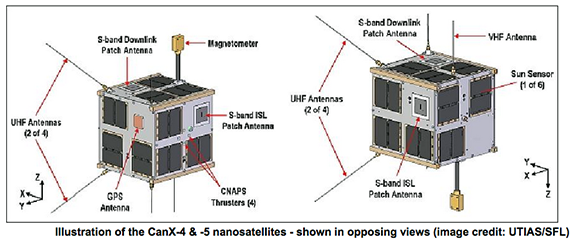 The 7-kilogram CanX-4/CanX-5 nanosatellites were the first of their size and cost to achieve precise, autonomous formation flight with centimeter-level knowledge and sub-meter control accuracy in low Earth orbit. The nanosatellites flew without assistance from ground control in five planned orbital configurations with separations varying from 50 meters to one kilometer.

In presenting the Alouette Award to the CanX-4/CanX-5 team, CASI noted that precision autonomous formation flying has practical application in sparse aperture sensing, ground target tracking, precise geolocation, and on-orbit servicing.

CASI made the Alouette Award presentation on May 16 at a Gala Dinner during the CASI ASTRO 2018 Conference and 65th Annual General Meeting in Quebec.