Keysight Technologies has just released an application note that enables readers to learn more about analyzing their time and frequency domain signals at specified times as well as the instrument integration of the 3000T X-Series.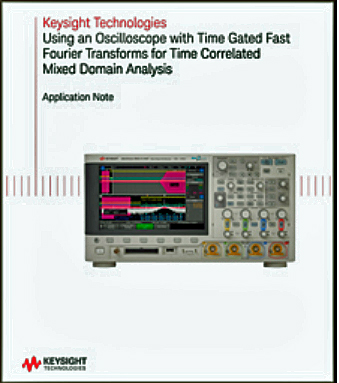 If difficulties arise with a particular design, answers are required quickly... according to Keysight, that's the reason the firm developed their 3000T X-Series oscilloscopes, to integrate all of the analysis capabilities one would need to solve any encountered problem...
The most serial decode options, all hardware-based for the most detail
Time-correlated frequency domain measurements with gated FFTs for mixed-domain analysis
6-in-1 instrument integration for the correlated capabilities of an oscilloscope, logic analyzer (MSO), function/arbitrary generator (WaveGen), digital voltmeter (DVM) and counter/totalizer
Standard segmented memory, which optimizes the scope's memory to ensure you're capturing all the data you need
Plus additional measurement-specific options
Even the toughest measurement challenges can be handled by the 3000T X-Series, with integrated capabilities such as...
Correlated time and frequency measurements
Correlate time/frequency domain with the gated FFT function
Trigger with digital channels, view time domain analog signals, and correlate time/frequency domain with the gated FFT function
Retrieve this informative app note at this direct link...