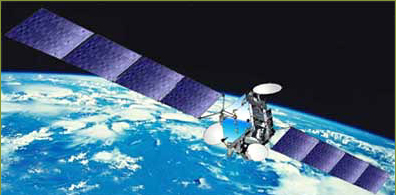 Telenor Satellite Broadcasting (TSBc) today announced that its spacecraft, THOR 6, has arrived safely at the Guiana Spaceport in Kourou.
THOR 6 will now go through its final preparations prior to its scheduled launch at the end of October, 2009. THOR 6, Telenor's latest satellite, will provide high power direct-to-home (DTH) television services from the 1° West orbital position, and is the final satellite in Telenor's replacement program. It is based on Thales Alenia Spacebus 4000B2 platform and fitted with 36 Ku-band transponders. Sixteen transponders will point to the Nordic countries and 20 transponders will be positioned to serve the growing broadcasting demands within Central and Eastern Europe.
Photo: Thor 6. Source: Thales Alenia Space.
THOR 6 will replace the current Thor III satellite, which is set to retire in 2010, as well as provide additional capacity for expansion.
The spacecraft is to be launched from the Guiana Spaceport onboard the Ariane 5 ECA launcher with its co-passenger NSS12 from SES World Skies.
"The launch of THOR 6 will
further strengthen TSBc's position in Central and Eastern Europe
(CEE) providing much needed expansion capacity to 1 degree west ,
which already services over 15 million TV households
throughout the Nordics and CEE region" said
Cato Halsaa
, Vice President and CEO of Telenor Satellite Broadcasting." It will also provide additional capacity in the Nordic region, where we continue to see a growth in HDTV requirements".
Telenor Satellite Broadcasting's mission team will be stationed at Kourou to supervise the final preparations of THOR 6 as it commences an
intensive 30 day mission campaign
, prior to launch.
Built by
Thales Alenia Space
, THOR 6 is based on Thales Alenia Space Spacebus 4000B2 platform, fitted with 36 active Ku-band transponders, serving the Nordic countries and the growing broadcasting demands within Central and Eastern Europe.
Commenting on Telenor's first contract with
Arianespace, Chairman and CEO of Arianespace
,
Jean-Yves Le Gall
said "We are very honored to have earned the trust of Telenor in the provision of our excellent launch service and solutions".