[SatNews] "This is our third acquisition in a key European market since listing on AIM in May 2015..."
Satellite Solutions Worldwide Group plc (AIM:SAT), the global communications company specializing in rural, last-mile satellite broadband, has acquired Sat2Way SARL ('Sat2Way'), one of the largest and most respected providers of satellite broadband in France, with over 5,500 residential and business customers. Predominantly operating in France, Sat2Way also has customers in Spain, Switzerland and Belgium.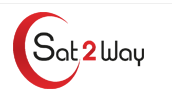 SSW, which already has over 1,000 customers in France, sees the territory as a key market in Europe as the French Government has incentivised the roll-out of satellite broadband as the solution for many homes and businesses, and is currently offering subsidies in many areas via their 'subvention' scheme. As a result of this acquisition, SSW becomes the second largest satellite broadband provider in France with over 6,500 subscribers and is well positioned to target an addressable market of nearly 1 million homes in France, equating to 3 percent of French households, which have less than 2 Mbps broadband coverage*.

Sat2Way has been acquired out of administration for €825,000 in cash for 100 percent of the share capital. For the eight months ending February 28, 2015, Sat2Way generated sales of €1.73 million (FY2014: €2.54 million) and an EBITDA loss of €0.36 million (FY2014: loss of €0.34 million) (all figures are unaudited). The acquisition is expected to be earnings enhancing for SSW within the current financial year.
CEO Andrew Walwyn commented, "We are delighted to welcome Sat2Way customers and staff to SSW. This is our third acquisition in a key European market since listing on AIM in May 2015; it underpins our growth ambitions and takes our subscriber base to approximately 20,000 customers, a 65 percent increase since float.
"Following this acquisition, France is now our second biggest market after the UK, and we expect to expand further there in due course. France is a model case study on how Government support can rapidly accelerate satellite broadband adoption, and we are aware that a number of other European Governments in our key markets are considering similar schemes. I believe we face very exciting times ahead."
The financial statements for Sat2way the year ended June 30, 2014 show net liabilities of €0.16 million, which has increased to net liabilities of €1.05 million in the unaudited management accounts for the eight months ended February 28, 2015, after a net loss after tax of €0.89 million, including operating losses of €0.36 million and an exceptional provision of €0.52 million.
Established in 2008, SSW offers a broad range of satellite broadband services with customers across 31 countries. With solutions targeting B2C and B2B users, and with products developed specifically for the broadcasting/SNG, Police and Military markets, SSW's brand Europasat is a leading independent provider of satellite broadband internet services across Europe.
Working closely with satellite owners and operators, SSW targets customers in the 'digital divide' with solutions that deliver up to 30 Mbps satellite based broadband services to almost any premises, whether residential, commercial or industrial across Europe, irrespective of location or local infrastructure.
*Source: Point Topic data.