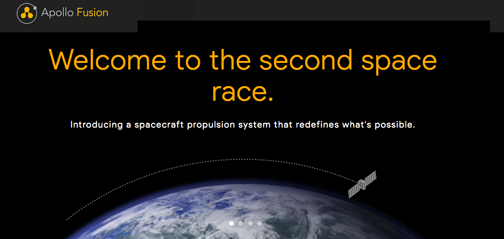 Apollo Fusion has announced a major breakthrough with their new electric propulsion system, Apollo Constellation Engine (ACE).
Apollo recently tested ACE in an independent lab at The Aerospace Corporation where thrust, Isp, and system efficiency measurements closely matched Apollo's own lab tests. These results showed that ACE has 3x better impulse per kg and 3x better impulse per liter than competing thrusters on the market today. These advantages can result in a launch cost savings of $250,000+ for satellite manufacturers.

Apollo Fusion Co-Founder and CTO, Ben Longmier, noted that satellite manufacturers are often constrained by mass or by volume. On both metrics, ACE is unmatched.
With ACE, it's now possible for communication constellation vendors to cut satellite system cost, cut launch costs, and get a complete constellation into orbit significantly faster.
By allowing Earth imaging satellites to fly at a lower orbit, ACE enables these satellites to double their resolution (and greatly increase their revenue) at one-fifth the cost of increasing their aperture size. ACE can maintain an imaging satellite's altitude at 300-350 km for 5 - 7 years.
Tests at The Aerospace Corporation and Quanta Laboratories confirmed that ACE exceeds mission requirements for their customers. Vibration tests were based on 8 popular launch vehicles. A 100 hour lifetime test, with 400 stops and starts, simulated the first weeks of a mission. ACE has successfully operated using three different types of propellant and has operated using 185W to 800W of input power. Test results show an expected operational lifetime exceeding 4,000 hours.
Victor Aguero, Sr. Program Development Manager, SRI International's Signals and Space Technology Laboratory, said that the successful development and commercial delivery of a new high performance electric propulsion thruster, such as ACE, enables a whole range of capabilities and business models leveraging increased mobility of space platforms, and opening the door to another phase of innovation in space. SRI has delivered advanced satellite technology solutions to clients for decades, and is a thought leader in proposing how space will be used in the future.
Apollo Fusion CEO Mike Cassidy, reported that ACE enables satellite manufacturers to turbo optimize their system design. Traditional propulsion systems can occupy as much as 30 percent of a satellite's volume. However, ACE is so small and light that manufacturers can now ask whether they want to add — more revenue-generating payload or shrink the satellite to reduce launch costs — or both. He added that the company is already working with many of the top satellite companies in the industry as this breakthrough makes a significant impact on their business, adding that satellite costs are falling. Launch costs are falling. It's a great time for this innovation to come to the propulsion system as well. We have dramatically reduced costs, volume, and mass. The benefits to larger constellations can add up to hundreds of millions of dollars saved."
Apollo Fusion is led by two rocket scientists, co-founders Mike Cassidy and Ben Longmier. Mike is a serial entrepreneur with four successful startups and was previously a Vice President at Google where he led Project Loon, a high-altitude telecommunications product. Ben holds advanced degrees in Physics, Nuclear Engineering, and Plasma Physics, was a professor at the University of Michigan, and was the founder and CEO of an aerospace company which was acquired by Apple. The team has over 100 years worth of Hall thruster experience.
---
Upcoming, from February 5 to 8, 2018, is the SmallSat Symposium in Silicon Valley, California — for information regarding this innovative event, please access http://smallsatshow.com.