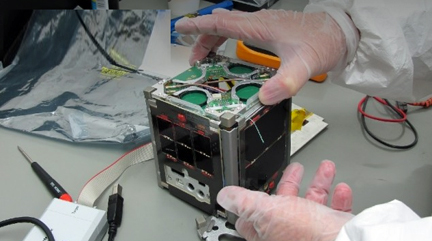 [SatNews] A minuscule satellite designed by a group of Israeli high school students was launched into space on Thursday from a site in Russia.
The satellite, Duchifat 1, weighs 840 grams (1.9 pounds) and was developed by students at the Herzliya Science Center. The satellite is first Israeli spacecraft of its kind to orbit the Earth. Nearly 200 students took part in the satellite's construction and development over the past couple of years. Forty of the students, aged 16-17, perfected the spacecrafts's design and gave it its final touches in the last few months.
Duchifat 1, built with the help of the Israeli Space Agency in the Ministry of Science, is meant to assist in locating lost travelers in areas with no cellphone reception. The satellite is solar powered and is expected to remain in orbit for the next 20 years. The tiny space satellite, which was attached to a 34 ton rocket, entered orbit after the rocket was launched from the Yasny launch base in Russia. The satellite will orbit Earth at an altitude of around 370 miles above the planet's surface at a speed of about 16,800 miles per hour, circling the entire globe every hour-and-a-half. It was launched along with other satellites from the Netherlands, Denmark, Argentina, Belgium, Brazil, Singapore, Ukraine and the US.
"The launch today marks the beginning of the nano-satellite era in Israel," Minister of Science, Technology and Space Yaakov Peri said. "The project is part of the great technological advances in space research, a field which once was exclusive only to big corporations and governments. There is now accessibility for satellite research and space technology for institutes and universities as well."
Story by the Times of Israel.