Thuraya Telecommunications Company (Thuraya) has launched Thuraya SeaStar, the new, circuit switched voice terminal that brings full and affordable accessibility to maritime communications.
Thuraya SeaStar meets the evolving needs of the modern fishing market and introduces the power of modern SATCOM capability to small scale operators. Thuraya's new terminal is ideal for smaller and regional owner operator fishing vessels, although the product's appeal also extends to other operators looking for support systems. With affordability a driving factor in key maritime market sectors, Thuraya SeaStar will be available at a cost of ownership that lowers the barrier to providing onboard satellite communications. Thuraya SeaStar provides unrivaled functionality and levels of value previously unseen at its price point.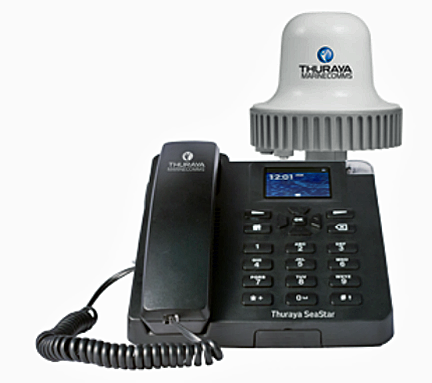 SeaStar offers an effective solution for catch reporting as well as an accessible emergency calls and notification capability. It meets cabin crew welfare requirements, in line with MLC 2006, and can be readily installed as a dedicated crew phone in the mess. On larger merchant vessels, Thuraya SeaStar can also serve as a complement to existing Orion and Atlas IP terminals.
This new terminal offers voice, SMS, data and tracking, on an easy and intuitive interface that is based on Android operating systems. Users can make satellite voice calls to normal PSTN phones, mobile phones and other satellite phones through the Thuraya satellite network. Thuraya SeaStar's ability to connect a standard analogue phone or private branch exchange (PBX) delivers further flexibility in taking calls on board vessels. A standard cordless telephone can be connected, giving users the freedom to make calls while away from the handset, and Thuraya SeaStar also features an external speaker.
GmPRS data connection is included too, for simple emails, weather forecasts, and access to mobile websites and social media. The user defined geofencing function, which enables automatic tracking of vessels for enhanced fleet management, can be set and locked for specific geographies before delivery. An alert button offers additional reassurance, should anything go wrong while on board that may require emergency contact for external support.
The Thuraya SeaStar unit comes with a comprehensive pack that includes support materials, including an antenna, a below decks unit, 25 meter standard cables, mounting brackets and bolts. The installation process is quick and easy, with the flexibility of cable runs of up to 75 meters, if required.
While Thuraya SeaStar will have considerable appeal for smaller scale and regional owner operator fishing vessels, the reach of Thuraya's network is extensive. According to data from the Western & Central Pacific Fisheries Commission (WCPFC), 80 percebt of the world's fishing regions lie within Thuraya's footprint. Japan, Philippines, Indonesian, Cambodia and China are key countries, and Thuraya SeaStar will also appeal to regional merchants looking for a back-up system alternative to VHF and GSM.
According to Bilal Hamoui, Thuraya Chief Commercial Officer, because the maritime market itself includes operators of varying scale and requirements, Thuraya needs to offer a comprehensive portfolio of products at a clear and distinctive range of price points. Maritime satellite communications should be available to everyone at sea and Thuraya SeaStar is a high quality, accessible and affordable voice terminal that meets the needs of a rapidly expanding modern market. Expectations are changing and new legislation and safety requirements are being introduced around the world, but Thuraya has made it possible for smaller scale operators to meet these changing demands.