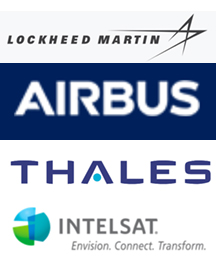 All can acknowledge that the past few years have been bad for satellite builders. And, as journalist Chris Forrester reports at the Advanced Television infosite, he cites the examples that, in 2017 and 2018, there were only 14 orders for geostationary satellites.
As good as last year was, production is still well below a typical c20 units a year ordered a few years ago. The proof that times were bad was proven when Lockheed Martin announced the company had lost some $410 million on the production of their latest three satellites.
Airbus Space & Defence led the order book for 2019 with six large commercial satellites. Three were for Inmarsat, one for Malaysia's MEASAT and two that are being built with Thales Alenia Space for Spain's Hisdesat as well as SATRIA for Indonesia, Eutelsat 10B, Nilesat 301 and Amazonas NEXUS for Hispasat, all geostationary craft.
There are other orders pending for 2020, with a likely commitment from Intelsat for a replacement for that firm's failed I-29e craft. A potential order for a Nepalese craft was expected by Thales Alenia, but that has been delayed, according to news reports.
This year, it seems that some optimists suggest there will be around 20 satellites ordered, but most will be happy to see 12 to 15 such order, which will represent good news for the manufacturing sector.
Adding to the portfolio could be the commitments from the (perhaps now defunct) C-Band Alliance (CBA), which talked about eight satellites being needed to replace and augment capacity being surrendered to the FCC. Even should the demise of the CBA occur, the likelihood is that Intelsat and SES will each need to order about four satellites. This will help US manufacturers such as Boeing, Northrop Grumman and Maxar (the former Space Systems/Loral).