Today Gilat Satellite Networks Ltd. [Nasdaq: GILT] announced it has been chosen by Cable & Wireless Panama, Panama's largest telecommunications operator, to provide a SkyEdge II high-performance network that will be used to deliver broadband Internet to hundreds of schools in remote areas nationwide.
As part of the solution,
Gilat will provide equipment, technical support, assisted network operations, and training
. The new network will
enable students in Panama's remote areas
to enjoy an enhanced
educational experience through interactive learning programs and other Internet applications.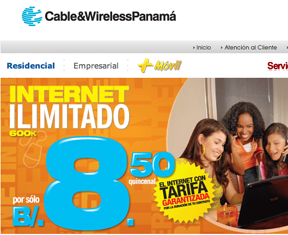 Cable & Wireless Panama is already using a Gilat SkyEdge network, which was deployed in recent years, to provide telephony and Internet services to more than 450 remote Panamanian communities.
"The
telecom industry in Panama is highly competitive
. We have continually upgraded our communications infrastructure to stay at the forefront of the industry. Our experience proves that
Gilat provides the ideal combination of superior technology and thorough support
," said
Pedro Diaz
,
Executive Vice President of Sales, Cable & Wireless Panama.
"By featuring highly efficient bandwidth utilization, Gilat's SkyEdge II platform will enable us to deploy the most economical solution, over the long term, while offering our customers reliable, high quality services."
Guy Moskowitz
,
Gilat Network Systems' Executive Vice President of Sales,
said, "Gilat's SkyEdge II network will enable Cable & Wireless Panama to benefit from the platform's highly efficient use of the satellite link while providing an advanced, high-performance and reliable solution to Panama's schools.  
We are pleased to once again partner with Cable & Wireless Panama, this time to enhance the quality of education for students throughout the country
."
Gilat's SkyEdge II is a multi-service platform enabling the delivery of high-quality voice, broadband data and video services for diverse environments including enterprises, rural networks, cellular backhaul and government network applications.
 SkyEdge II is a standards-based system using DVB-S2 and DVB-RCS. With better efficiencies and full adaptivity for both the inbound and outbound channels, it provides higher performance that serves the growing requirements of end-users.
Gilat's diverse portfolio of SkyEdge II VSATs are all supported by a unified platform, offering service providers the most suitable product for their application needs as well as the flexibility to evolve their networks.
 The newest addition to Gilat's SkyEdge II portfolio is NetEdge(tm), a dedicated solution for multi star networks, specifically designed to meet the needs of corporations and cellular backhaul applications.