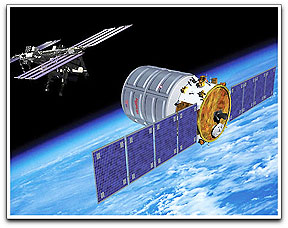 Dutch Space has signed a contract with Orbital Sciences Corporation (NYSE: ORB) for the development of solar arrays for NASA's new cargo missions to the International Space Station (ISS) to be carried out under  NASA's Commercial Resupply Service (CRS) project.
The more than US$35 million contract covers the design, manufacturing, assembly, integration, and testing of the solar arrays for nine pressurized cargo missions to the ISS.
Dutch Space
is
Orbital
's prime contractor for the development of the solar arrays for the
Cygnus™
spacecraft, the centerpiece of Orbital's automated cargo delivery service for NASA's logistic support to the ISS. The initial demo flight in 2011 will be carried out as part of
NASA
's
Commercial Orbital Transportation Services
(
COTS
) project, which provided NASA incentives to the developing commercial launch services industry. Eight operational CRS cargo delivery missions are planned as part of the CRS project, starting in late 2011.
Dutch Space has a track record in designing and building solar arrays for ISS cargo spacecrafts.
Bart Reijnen
, CEO of Dutch Space, said, "The contract awarded by Orbital is a milestone for Dutch Space as it emphasizes that our flight-proven heritage is recognized world wide. Over the last thirty years and particularly through our contribution to the European Autonomous Transfer Vehicle ATV, we've gained profound knowledge of the challenging requirements to solar arrays for an ISS resupply spacecraft. We look forward to working on this prestigious American space project together with Orbital."