[Satnews] Airbus Defence and Space, the prime contractor for NASA's Orion space vehicle's European Service Module (ESM), has completed four large titanium tanks for the module that will be delivered for initial testing.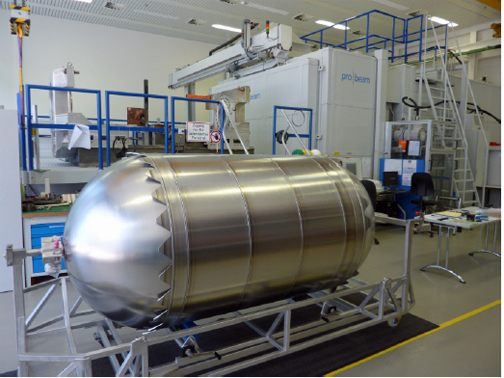 These tanks are the first hardware to be supplied for the Orion space vehicle. Each tank is 2.67 meters high, with a diameter of 1.15 meters. The tanks weight approximately 100 kilograms when empty and have a volume of 2,100 liters, giving a total payload capacity of almost nine tons of fuel (monomethylhydrazine (MMH) and mixed oxides of nitrogen (MON)). Most of the ESM's total mass of just over 13 tons will consist of fuel.
The tanks will be first transported to Italy, where the structural test model will be assembled before being tested in the United States. The primary goal of these initial tests is to verify whether the structural components can withstand the enormous loads, especially during take-off. The next step is to build the engineering model that will be assembled and tested at Airbus Defence and Space in Bremen. This model will be used to test the inner workings of the tanks, which ensure a continuous, bubble-free flow of propellant to the motors in zero gravity. The actual flight tanks for the ESM—which will be used for the first time when the uncrewed Exploration Mission 1 launches in 2018—will be built by Airbus Defence and Space in Bremen by mid-2016.
The ESM will provide propulsion, power and thermal control to the Orion space vehicle, and will also supply crew members with water and oxygen during missions to the Moon, asteroids and later, eventually, to Mars.