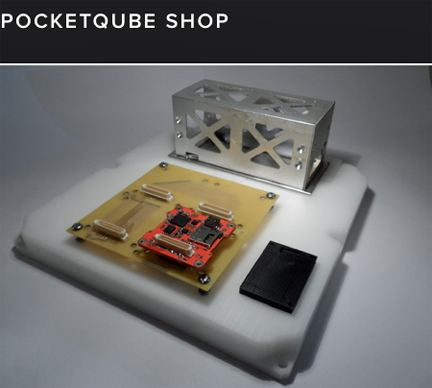 [SatNews] PocketQube Shop has announced the addition of the PocketQube Kit product to its online satellite shop.
The ready to use Kit is the first to be developed for the new PocketQube Standard. PocketQube Satellites are standard 5cm cubes which are the smallest spacecraft to have ever successfully flown to and operated in orbit. The PocketQube Kit contains the main building blocks for any small budget satellite project including Spacecraft Structure, a Radio board (MiniSatCom), an On Board Computer (brain of the satellite) and a Labsat development board to test different electronics boards. The base version starts at $5999 (around £4k) with multiple configurations available.
Targeted at STEM groups such as high school, college and university students, government agencies, amateur/hobbyist groups and private enterprise, the Kit democratizes space hardware for small groups developing their first satellite. Larger predecessors to PocketQube such a cubesat typically cost at least $150k for hardware and launch, while PocketQube starts from around $35k for a similar project. Using a modular design, boards will be programmable using the Labsat Development board. A common community led standard interface for boards called PQ60 allows the kit to interface with third party hardware such as custom payloads such as sensors or experiments.
Tom Walkinshaw, the Founder/CEO of PocketQube Shop (Alba Orbital Ltd), said, "Our mission is to democratize low-cost access to space for Planet Earth and this kit is a key stepping stone to enabling this goal. We believe this could be a game-changer for getting new technologies flown in space quicker and educating the next generation of STEM students'
The next launch of PocketQube satellites to orbit is expected to be in early 2016 from Russia. The Kit is available online via the PocketQube Shop website: http://www.pocketqubeshop.com/hardware/pocketqube-kit