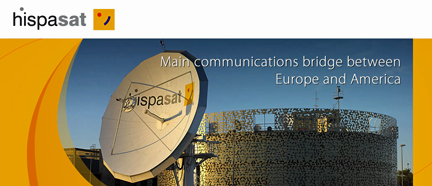 [SatNews] HISPASAT, Spain's satellite communications operator, has signed a capacity leasing agreement with Overon to broadcast the 2014 20th World Cup, which will be held in Brazil from June 12-July 13.
This stellar sporting event will be telecast across Europe and America via the HISPASAT Group's Amazonas 1 satellite, which will provide TV channel services transmitting the World Cup games. Thanks to its coverage of both continents, this satellite is the ideal vehicle for this type of event, and owing to its cutting-edge benefits and flexibility, it now offers very reliable links and connections to both sides of the Atlantic. The agreement provides to Overon 8 Amazonas 1 satellite transponders, connecting Brazil-Brazil, Brazil-South America, Brazil-Europe, and Brazil-North America, that will be devoted to telecasting this sporting event.
The agreement consolidated HISPASAT's leading position in providing broadcast, distribution and contribution video services to Latin America through different orbital positions and satellites, placing the Group at the top of transatlantic satellite providers.
For further information, please visit the HISPASAT infosite at http://www.hispasat.es/