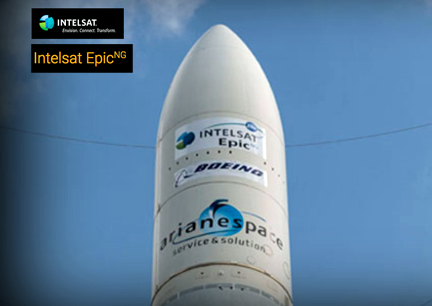 Intelsat S.A. (NYSE: I) and Quantis Global have signed an agreement to enhance and expand the Quantis network using services provided by Intelsat EpicNG HTS and IntelsatOne Flex services, bringing higher performing broadband services across Europe and North Africa.
Quantis, part of Eurona Wireless Telecom SA (MAB: EWT), will incorporate services from two Intelsat Intelsat EpicNG satellites—Intelsat 33e and Intelsat 37e—and use Intelsat's managed services offering, IntelsatOne Flex for Enterprise, which delivers high-quality, global, enterprise-grade, wholesale Mbps service. The network leverages Intelsat teleports and will serve NGOs, enterprise, embassies, the O&G sector, and maritime customers in Europe, the Middle East and Africa.
Intelsat launched the first two satellites in the Intelsat Intelsat EpicNG platform in 2016. Intelsat 29e serves the Americas, and Intelsat 33e began operations over Europe, the Middle East, Africa and Asia on January 29th. Intelsat 37e is scheduled to begin service in 2018. The flexibility of Intelsat Intelsat EpicNG's open architecture and backward-compatible design enables service providers like Quantis to seamlessly transition to Intelsat EpicNG and immediately realize efficiency improvements, a signature of this high-throughput platform.
Aquilino Antuña, CEO of Quantis, affirmed that his firm added high-throughput services in order to meet the growing needs of their existing customers, as well as to position the company for new, revenue-generating services that require higher throughput HTS. After reviewing many options, it was clear that Intelsat Intelsat EpicNG and IntelsatOne Flex for Enterprise offered the best path to immediately deliver more bandwidth and cost-efficient commercial solutions to Quantis' blue-chip corporate, NGO and maritime customers. The global footprint of the Intelsat solution also means the company will be able to support their growth strategies in the countries where they currently operate as well as quickly respond to new market opportunities anywhere in the world."
Jean-Philippe Gillet, Intelsat's Vice President, Europe, Middle East and Africa, added that this managed service accelerates time to market and allows service providers to be more responsive to end users all the while expanding their network with a robust and easily scalable broadband infrastructure.
Additional Intelsat EpicNG: intelsat.com/global-network/satellites/epicng/
Additional information regarding IntelsatOne Flex for Enterprise: intelsat.com/intelsatone-flex/enterprise/