[Satnews] SES S.A. (NYSE Euronext Paris and Luxembourg Stock Exchange: SESG), in collaboration with StarTimes, has successfully wrapped up a training workshop that was specially designed to offer superior after-sales services to StarTimes' DTH satellite television subscribers in Nigeria.

ELEVATE, launched in 2012, is the SES Quality Assurance and Accreditation training program for installers across the African continent. This program aims to create an engaged installer network essential to support DTH growth in Africa. The ELEVATE certificate provides the opportunity to generate more income, further develop skills, learn cutting edge techniques and improve the overall quality of installations. The one-week specialized satellite services training and workshop, which kicked off on March 21 in Lagos, was designed to train 60 senior after-sales, installation and maintenance officers to help them enhance their installation skills and build capabilities for the technical officers in areas such as maintenance and satellite trouble-shooting.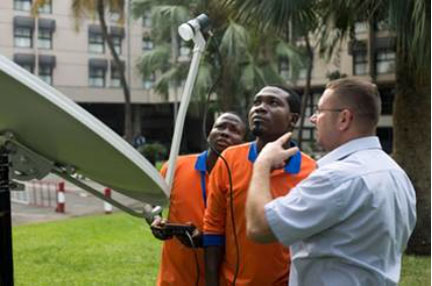 SATELLITE INSTALLER TRAINING IN NIGERIACommenting on the training and the partnership, Dare Kafar, Sales and Marketing Director at StarTimes, explained that the strategic partnership with SES is in line with StarTimes' drive to upgrade skills and resource level of its technical personnel, ensure compliance with globally acceptable standards and improve its installation services to its subscribers.

"We are mindful of the strategic significance of well-equipped human resource and personnel in the quest to keep subscribers happy, particularly in the 21st century. In this light, our alliance with SES is a deliberate step towards ensuring a technical force that is top of class, with up-to-date global standards and best practices, and also ready to offer remarkable satellite television installations and management services to excite our subscribers," Kafar said.

SES Vice President Marketing, Paul Freeman, said that the goal is to bring satellite TV services closer and at their best to more Nigerians. "The Elevate training program was born out of a need to complement the satellite and digital television roll-out on the African continent with quality installations. It also serves to empower and benefit local business growth across the digital broadcasting environment through skills development. In addition to the training sessions, installers are provided with specialized tools, free training material and downloadable manuals."
One of the participants, Akindele Oluwaseyi, said the new training has further deepened his skills and knowledge for professional installations and will help him service subscribers better in the areas of signal reception and tracking. Another participant, John Egejuru, said the training gave him clearer insights into installation errors, poor networks, and the risks and functions of technical equipment, as well as the global direction for satellite television and networks.