Frost & Sullivan presented Kymeta® Corporation with the New Product Innovation Award for its compact automotive antennas for satellite broadband.
Frost & Sullivan recognized Kymeta's mTenna® technology and design that overcomes data congestion and poor security associated with current data networks in a streamlined design that embeds seamlessly into the roof of a car. The analyst firm further concluded the technology overcomes issues with spotty coverage, limited bandwidth and increasing costs of software-related automotive recalls through the use of satellite connectivity to automobiles.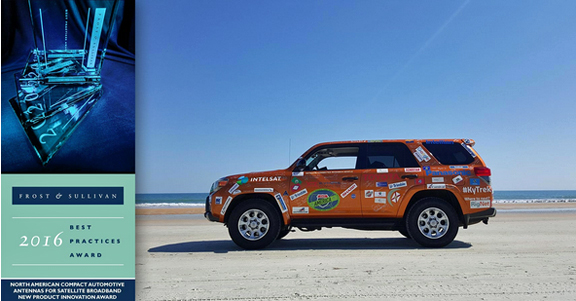 The award arrives in the middle of an exciting year for both Kymeta and the connected car industry. In January, Kymeta announced $62 million in Series D funding and a partnership with both Toyota and Intelsat to bring satellite connectivity—with Kymeta's mTenna technology—to the connected car of the future.
Kymeta also showcased the real world viability of its mTenna technology by driving a car, connected by Intelsat's satellite service, across the country. On top of more than 15,000 miles of testing, this cross-country drive showcased the viability of a satellite connected car; allowing for increased capacity, coverage and security over the conventional cellular-connected vehicle.
For connected cars, satellite connectivity will usher in new technologies and services, and broader market potential for manufacturers. As demand from drivers and passengers for more information, entertainment, services and data coming to the car continues to increase, the Kymeta solution overcomes the current hurdles facing LTE and other terrestrial connectivity solutions and will set a new standard for uninterrupted, high-speed worldwide access. The only way to enable satellite connectivity for connected cars is through Kymeta's mTenna technology.
What makes Kymeta's mTenna technology unique and a great application for the connected car industry is its ability to be software-defined.As a software-defined antenna, Kymeta's mTenna technology uses software to electronically point and steer towards a satellite instead of having mechanical steering components like current satellite antenna solutions. By removing all mechanical components, the antennas can be lightweight and slim enough to seamlessly integrate into a vehicle while ensuring connectivity is maintained—regardless of location.
The benefits of Kymeta's software-defined, electronically steered antennas apply to other market segments as well including aviation, maritime, rail, fleet and government. The first commercial implementation of Kymeta's technology will be delivered in the maritime market.
"Kymeta is honored to receive this award from Frost & Sullivan as it supports our goal to usher in a new era of technologies and services for the global connected car industry," said Tom Freeman, Senior Vice President Land Mobile, Kymeta. "Unlike today's technologies, mTenna technology is scalable and easy to maintain while satellite connectivity overcomes the current hurdles connected cars face with cellular connectivity solutions setting a new standard for uninterrupted, high-speed worldwide connectivity."
"Kymeta is a forerunner specializing in the development and commercialization of the software-enabled, electronically steered satellite antenna for the automotive industry. Satellite communication and Kymeta's mTenna technology is an ideal solution for implementing software over-the-air (SOTA)/firmware over-the-air (FOTA) updates for vehicles that are distributed globally and on a large scale," said Meena Subramanian Research Analyst at Frost & Sullivan. "Satellite broadband in the automotive industry is expected to represent the future of connected vehicle technologies. Kymeta has addressed the challenges faced by automotive OEMs by enabling global coverage and secure Over the Air (OTA) updates. This innovative product is currently facilitating connected car concept vehicle design and is expected to extend its support to autonomous vehicles."