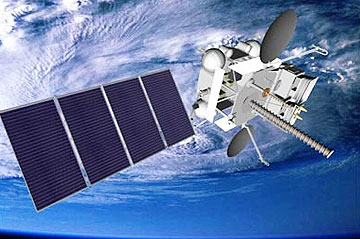 [SatNews] The
Zenit-3SB
rocket launched on Thursday
from the Baikonur space center in Kazakhstan delivered the Elektro-L 1 meteorological satellite into orbit early on Friday, Russia's space agency, Roscosmos, said.
Elektro-L 1
, a Russian geostationary weather satellite, separated from the booster at 00:28 Moscow time [21:28 Thursday GMT]. Until recently, Russia had only one weather satellite, the
Meteor-M
type, in orbit.
Roscosmos
deputy head,
Anatoly Shilov
, said later on Friday the spacecraft already completed first tests in the orbit and "works perfectly well. We can now say that the Russian orbital grouping already has two meteorological satellites - Meteor-M and Elektro-L. Elektro will make Russian weather forecasts more precise."
The blastoff was originally scheduled for December 25, 2010, but was delayed and took place at 3:29 pm Moscow time (12:29 GMT) on Thursday. The Elektro-L 1 was designed to provide meteorologists with a wide variety of data, including weather analysis and forecasting on a global and regional scale. It also monitors changes in the climate. The satellite should be able to image the entire visible hemisphere of Earth at a resolution of 1 km per pixel (visible light band) and 4 km (IR band), every 30 minutes. The weight of the spacecraft in operational mode is about 1,500 kg. Its service lifetime is about 10 years. The Russian government previously said it would restore the Soviet network of weather satellites, which could help monitor weather and climate conditions across the country's 11 time zones. Currently, Russia has to use meteorological data from U.S. and European weather agencies.