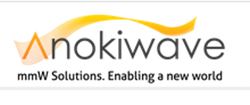 Anokiwave, Inc. has released their 2nd generation K-/Ka-band SATCOM Beamformer IC family for the design and commercial deployment of phased array based ground terminals.

The new K/Ka-band ICs enable active antenna based phased array SATCOM ground terminals that can auto-align and auto-position and support SATCOM-On-The-Move (SOTM) using LEO/MEO/GEO satellites.
The new IC family builds on the company's first generation of beamformer ICs, improving performance, reducing cost, and providing a host of digital functionality that simplifies the active antenna array design.

The highly integrated AWMF-0132 K-Band Rx IC and the AWMF-0133 Ka-Band Tx IC both support four dual polarization radiating elements with full polarization flexibility. Using a small 4.4x3.6 mm WLCSP (Wafer Level Chip Scale Package) makes the overall phased array assembly and thermal management even easier.
Executive Comment
Abhishek Kapoor, Anokiwave VP of Sales, said that high-performance with system level design considerations and low cost are fundamental to making mass scale commercial deployment of SATCOM active antennas and phased arrays a reality. The company's new K/Ka-band beamformers set a new and unmatched industry standard of performance and cost combination. Already received have been multiple SATCOM customers who are successfully building and deploying arrays using the new ICs who are achieving first pass success with their arrays with these new ICs.