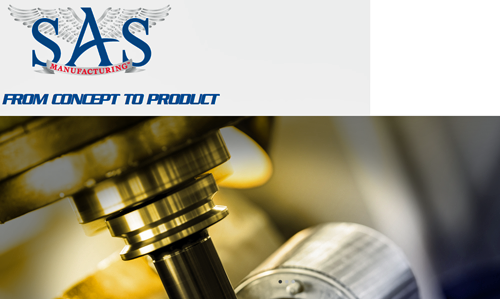 SAS Manufacturing LLC has unveiled a new advanced machining facility for design, manufacturing and assembly of aerospace components in Arvada, Colorado — SAS Manufacturing expects to more than double the facility's workforce of skilled machining technicians, managers and apprentices over the next 24 months.
SAS supports the entire program lifecycle for aerospace clients by providing strategic services during the proposal phase followed by tactical engineering expertise in the development of new space systems. Precision manufacturing is then critical in the rapid prototyping of new hardware components required to create innovative solutions that will evolve from development to production. And finally, SAS oversees procurement of subsystems and components as the program moves into the operational phase where recurring support is provided.

The fully renovated 25,000-square-foot building is equipped with state-of-the-art manufacturing systems, including automated 5-axis milling and 3D printing capabilities, to serve a growing government and commercial client base worldwide. The September 18 open house featured comments from U.S. Rep. Ed Perlmutter, Arvada Mayor Marc Williams, and Jay Lindell of the Colorado Office of Economic Development and International Trade. The event was attended by Denver aerospace executives and industry partners, members of the Colorado Space Business Roundtable and Arvada Chamber of Commerce.
The SAS Manufacturing plant opened for business in mid-July following a relocation of personnel and equipment from its previous headquarters in Englewood. The facility currently employs 13 machining and assembly technicians and managers, as well as manufacturing apprentices. In response to the growing demand for quality spacecraft and aircraft parts and components delivered in a timely manner, the firm plans to expand manufacturing activities and hire additional personnel, more than doubling its skilled workforce to 30 people in the coming 24 months.
The centerpiece of the plant's advanced manufacturing capabilities is a monoBLOCK 5-axis milling machine from DMG MORI, one of the most precise computerized numerical control (CNC) metal fabrication devices in the world. A second DMG MORI 5-axis milling machine has been ordered and will be installed in 2018. In addition, there are 4-axis CNC machines and several 3D printers for manufacturing with alloys, high-strength plastics and composites.

As part of an ongoing effort to build a 21st Century workforce in Colorado, SAS Manufacturing has launched its own apprenticeship program for local high school students and participates in Colorado CareerWise, an initiative to create apprentice positions in multiple industries statewide. SAS Manufacturing's first CareerWise apprentice joined the firm in early September.

SAS Manufacturing is a wholly owned subsidiary of Special Aerospace Services LLC (SAS), a tactical engineering firm. Both companies are 8(a) certified woman-owned small businesses supporting commercial and government clients in aerospace, aviation and other high-tech industries.