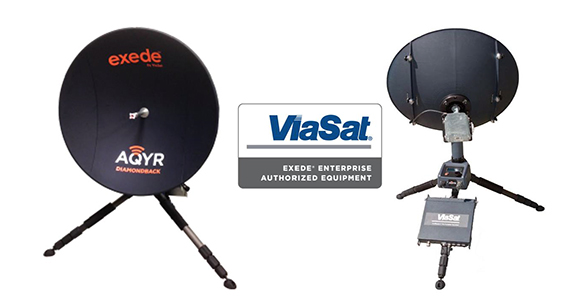 [SatNews] AQYR has announced the AQYR Diamondback is now authorized for use on the ViaSat Exede® Enterprise network.
The Diamondback AutoAQYR Terminal provides rapid, high-throughput connectivity with downstream rates up to 40Mbps and upstream rates up to 1OMbps, in a compact and portable package. The terminal is ruggedized to support operation in harsh conditions and supports multiple configuration options to suit user needs. Live terminal operation, as well as status, can be conducted via remote web-based GUI. The complete system including the satellite AutoAQYR terminal and antenna, is lightweight and can be packed into a single case for transport by a single user.
The compact Diamondback AutoAQYR Terminal is designed for quick and reliable, tool-less assembly and satellite acquisition in less than 10 minutes by personnel with little or no satellite user training. Field reporters, remote medical and peace workers, and emergency responders benefit from high-speed Internet with the convenience of near instant connectivity even in locations where no other communications infrastructure is available .
The product is now in production and is available for immediate delivery.