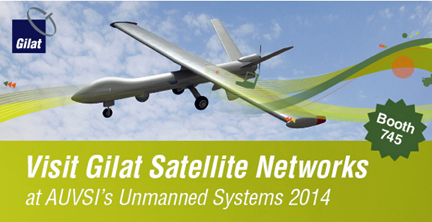 [SatNews] At AUVSI's Unmanned Systems 2014, Gilat will highlight its flight-proven BlackRay 71 UAV terminal product family.
BlackRay provides high-throughput BLOS communications in a compact and lightweight package. Two-way communications enables command and control capabilities, and transfers sensor data. The BlackRay 71 benefits include...
Integrated antenna controller, modem and BUC
Compact dimensions—installation within the UAV body
Rugged structure
Lightweight (<25 lbs)
Multi-band operation (Ku-, X-)
Gilat Satellite Networks is synonymous with superior quality end-to-end broadband satellite communications. With over 25 years of experience, Gilat delivers battle-proven, best of breed antennas, VSATs, integrated terminals, network solutions and amplifiers for broadband connectivity in the most challenging environments.