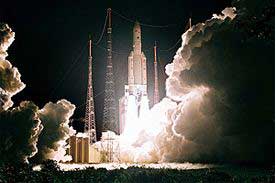 [SatNews] The next Ariane 5 flight has been given the go-ahead for its Wednesday liftoff following today's launch readiness review held at the Spaceport in French Guiana.
This milestone, which occurs before every Ariane 5 flight, clears the way for tomorrow's rollout of the heavy-lift vehicle with the Arabsat-5A and COMS spacecraft, followed by an evening launch from French Guiana on June 23.
The review confirmed the readiness of Ariane 5 and its two satellite passengers, along with the Spaceport's launch infrastructure and the network of downrange tracking stations.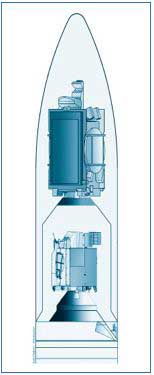 Ariane 5's payload lift performance for this
second Arianespace mission of 2010
is approximately 8,390 kg. to geostationary transfer orbit, which includes a combined mass of 7,315 kg. for the Arabsat-5A and COMS satellites, plus the launcher's SYLDA 5 dual-payload dispenser system and associated integration hardware.
Arabsat-5A was
built by Astrium and Thales Alenia Space on a turnkey contract for the Arabsat telecommunications operator
, and is to operate at an orbital location of 30.5° East.  It will be the seventh Arabsat satellite lofted by the Ariane family of launch vehicles since the orbiting of Arabsat 1A in 1985.
The spacecraft is based on Astrium's Eurostar 3000 platform, and its Thales Alenia Space-supplied payload has 24 Ku-band transponders and 28 C-band transponders. 
Arabsat-5A will provide telecommunications and TV broadcasting services over the Middle East and Africa.
South Korea's COMS (Communication, Ocean and Meteorological Satellite) is fitted with three payloads for meteorological observation, ocean surveillance and experimental broadband multimedia communications services.  Developed by program prime contractor Astrium based on the Eurostar 3000 platform, COMS is fitted with its multi-mission payload supplied by the Korea Aerospace Research Institute.
In the Ariane 5's dual-payload "stack,"
Arabsat-5A is riding in the upper passenger position and will be released first during the mission's deployment sequence.  COMS is installed in the lower slot, housed inside the SYLDA 5 dispenser, and is timed for separation at just over 32 min. into the flight.
 (See the drawing, above). Liftoff of the Ariane 5 is planned during a launch window that opens at 6:41 p.m. local time on June 23 at the Spaceport in French Guiana.