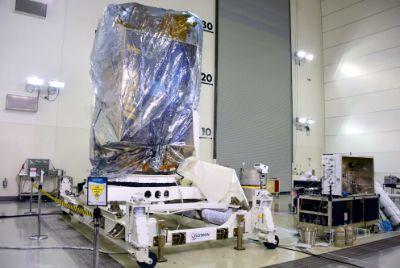 NOAA's Joint Polar Satellite System-1 spacecraft has been removed from its shipping container in the Astrotech Payload Processing Facility at Vandenberg Air Force Base in California, where the satellite is being prepared for its upcoming launch aboard a United Launch Alliance Delta II rocket.
The JPSS-1 satellite will go through a series of routine inspections, checkouts and testing before being sealed inside the payload fairing and placed atop the Delta II rocket, already standing at Space Launch Complex-2W. This launch remains scheduled for November 10.
NOAA partnered with NASA to implement the JPSS series of U.S. civilian polar-orbiting environmental remote sensing satellites and sensors. JPSS-1 has a seven-year design life and is the first in a series of NOAA's four next-generation, polar-orbiting weather satellites. For more information, please visit .