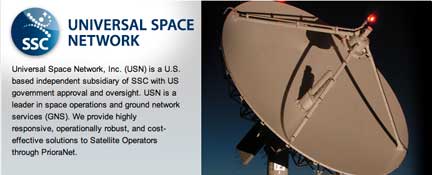 [SatNews] He will manage the growth of USN's mission critical services to government and commercial customers world-wide.
John E. Williams
has been selected by
Universal Space Network, Inc. (USN) as the new President and Chief Executive Officer
. He will be responsible for the management and growth of USN's mission critical services to government and commercial customers world-wide.
Mr. Williams joins USN with 32 years of aerospace and defense experience gained through extensive military and private industry careers
. In addition, he currently serves as the
Eastern Region Vice President for the National Defense Industrial Association (NDIA) Space Division and is a member of the NDIA Science Technology Engineering and Mathematics (STEM) Workforce Division
.
In the private sector, John most recently enjoyed a two year term with ATK Aerospace Systems as Director, Business Development for the Spacecraft Systems & Services division where he was responsible for strategic direction, competitive intelligence, business development and proposals for small satellites, components, and engineering services. Prior to ATK, he spent nine years with Booz Allen Hamilton as a Senior Associate leading a special projects team which specialized in the national security space and industrial base arenas — producing landmark national reviews on space launch, the space industrial base, and the defense industrial base.
John is a retired U.S. Air Force officer, having served 21 years in a variety of national security space-related roles such as Commander of the Air Force Satellite Control Network, the Air Forces space force programmer, and aide-de-camp to the Air Force Chief of Staff (CSAF).
He also served as the Air Forces lead for evaluating and advocating space and information operations requirements within the Joint Requirements Oversight Council (JROC) process and was a key member of the CSAF-directed SPACECAST 2020 study, which predicted where the Air Force should be in space in 2020 and beyond, what technologies to invest in, and future space employment concepts.
USN is a U.S. based, independent subsidiary of SSC with U.S. government approval and oversight. USN is a leader in space operations and ground network services.
The company provides mission critical solutions to satellite operations through PrioraNet, the largest commercial ground station network in the world.