[SatNews] Gilat Satellite Networks Ltd. (NASDAQ: GILT) has announced a new partnership with Inmarsat (LSE: ISAT) that is designed to address additional market opportunities for the forthcoming Global Xpress service in the fixed, land-based VSAT sector.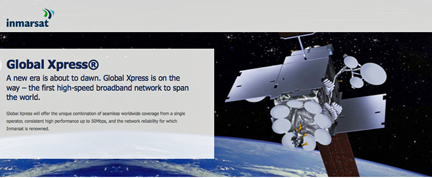 Inmarsat and Gilat will work closely to identify specific opportunities in which Gilat's technical offering is best suited to driving uptake of Global Xpress by end-users requiring fixed VSAT broadband connectivity. Under the agreement, Gilat will provide a suite of fixed GX land terminals and related network management resources, which will be made available to VARs, enabling them to address the further prospects identified. Inmarsat's fleet of three GX satellites (the Inmarsat-5 constellation) is on schedule to achieve full global coverage by the close of 2014. The game-changing Ka-band network will offer unprecedented, globally available, high-speed broadband data services.
Rupert Pearce, CEO, Inmarsat, said, "Gilat's unique solution was customized especially for these new service opportunities and draws on their broad experience in fulfilling the unique requirements of land enterprise customers."
For additional information regarding Gilat, please visit http://www.gilat.com/
Visit http://www.inmarsat.com/service/global-xpress-2/ for further Global Xpress information.