[SatNews] The satellite industry—once recognized by the words "Live via satellite" on every TV screen—has become almost invisible over the past 50 years, except to its global base of current customers.
The world's TV programming, business information, scientific data, weather information, safety, security and humanitarian traffic crosses the world's satellite network, but the contribution of that network to business, government and human welfare goes largely unrecognized. Only in natural disaster, such as the Philippine typhoon, or in support of war does the word "satellite" appear relevant to the general media.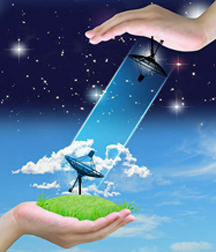 This lack of recognition has tangible—and negative—impacts. Satellite operators battle to maintain their spectrum against a mobile industry which is known to every person with a phone. Many of the new markets satellite needs to serve view its technology as a last resort. As a result, there are missed opportunities to help governments extend broadband coverage and improve education and healthcare.
Seizing the Opportunity
Coordinating an alliance of the world's leading industry trade associations, the Society of Satellite Professionals International is developing this campaign to change the global conversation about satellite. We want to create a set of powerful, emotive stories that dramatically illustrate how much our planet relies on the faint radio signals that travel between earth and space, carrying information, gathering data and controlling systems. While others present the rational arguments for protecting C-band and other satellite frequencies from terrestrial use, we will present the human case: why business, government, health, safety and welfare rely on interference-free access to space. In the end, spectrum decisions are political decisions, and powerful stories can have a major impact.
Help Us Make the Case
The satellite industry has an enormous impact on the economy, government and human welfare. SSPI wants your help in making the case for satellite to potential customers, government and multilateral organizations, and talented graduates – people who in some cases hardly know that our industry exists.
We invite companies, academic researchers, industry trade groups, and others to submit stories of satellite changing the world, from supporting free elections to improving education, providing news and entertainment to raising crop yields, saving lives to maintaining security in a dangerous world.
Click here to learn more and for instructions on how to submit a case.