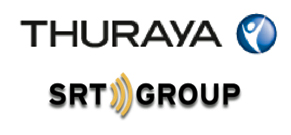 [SatNews] Thuraya Telecommunications Company is partnering with US-based SRT Wireless to deliver the next generation of Internet Protocol (IP) modems and an open platform for third-party developers.
Thuraya's portfolio of broadband products enable fast, convenient, reliable data connectivity from any location—even the most remote—in more than 160 countries across Asia, Australia, Africa, the Middle East and Europe. Highly portable and rugged, Thuraya's satellite broadband terminals can be configured to provide asymmetric streaming capabilities, enabling users to control their upload and download speeds based on usage requirements, to optimize bandwidth cost.
SRT's new Voice and IP Module (the VIPturbo), developed and manufactured in Broward County, Florida, is a Linux appliance that will allow terminal product developers to more quickly and efficiently bring new Thuraya products to market. Specifically, the VIPturbo is a single-board, software-defined-radio solution that supports the complete set of services available on the Thuraya network. This includes high-speed streaming at up to 384kbps, as well as Voice and Geo-Mobile Packet Radio Service (GmPRS). The unique design incorporates an OEM-programmable host controller with Linux software that allows developers to run custom software and applications directly on the modem, significantly reducing development time and costs to bring new products and applications to market.
The module is designed to meet the needs of market verticals including military, maritime, oil and gas and mining. The VIPturbo is the ideal satellite broadband module for terminal developers who want compact design with maximum performance and security.
SRT Wireless' infosite is located at http://www.srtgrp.com/
For further information regarding Thuraya, head over to http://www.thuraya.com/