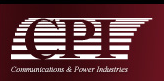 Most businesses would ecstatic if they had a mutually agreeable and financially rewarding partnership with a company for more than 20 years... certainly cause for a celebration. That's what these two companies — CPI Antenna Systems and General Atomics Aeronautical Systems — have enjoyed and sent the following statement.
The Antenna Systems Division (ASD) of Communications & Power Industries (CPI) has enjoyed a strong, mutually beneficial relationship with General Atomics Aeronautical Systems, Inc. (GA-ASI) for more than 20 years.


CPI ASD manufactures high-performing engineered antenna systems for communications and defense applications, resulting in a long-term partner for GA-ASI, which develops and manufactures multiple remotely piloted aircraft (RPA) platforms, including the Predator®, MQ-9 Reaper® and Gray Eagle, for the U.S. military and other allied forces.
Since first partnering, CPI ASD and GA-ASI have developed innovative, reliable and efficient ground-based antenna technology to meet the demanding intelligence, surveillance and reconnaissance (ISR) requirements of military customers and support RPA systems.
CPI ASD initially developed a low-cost advanced antenna solution for GA-ASI to fulfill the challenging requirements of a high-gain C-band antenna and acquisition aid providing electronic scanning in azimuth.
Over the past 20-plus years, hundreds of these ground-based antenna systems have been installed globally as part of GA-ASI's RPA delivery package. Having proven the effectiveness and durability of its technology, CPI ASD has continued to collaborate with GA-ASI on the enhancement of the antenna system in order to continue to improve RPA performance.
Steve Lonngren, senior vice president of CPI ASD stated that CPI Antenna Systems Division's long relationship with General Atomics Aeronautical Systems is a testament to the strength of CPI ASD's organization and their technology, as well as their ability to take an idea and articulate it into a deliverable that can function reliably in the zero-tolerance environment of the battlespace. For more than 20 years, they have delivered high-quality, competitively priced, dependable antenna products to one of the largest manufacturers of remotely piloted aircraft in the world. CPI ASD applies that same commitment to state-of-the-art, trustworthy and effective products, delivered on time and in accordance with our customers' exacting requirements, across all of CPI ASD's products, including line-of-sight, satcom, high-frequency, radar, telemetry and other antenna technologies operating in L-, S-, C-, Ku- and Ka-bands.