Now in its second year of service, Satcom Global's Aura has been selected and installed on numerous globally-trading fleets, providing a class leading, scalable and robust Ku-band communications solution for enhanced business operations and crew connectivity. Satcom Global is currently preparing to migrate the Aura VSAT service from iDirect Evolution, to the new iDirect Velocity platform, with the support of primary network provider, SES.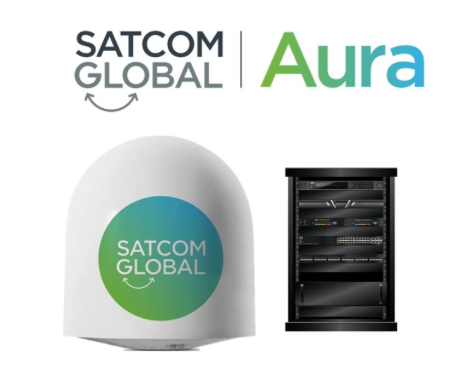 Additionally, this year will see Aura benefit from a range of network enhancements. Planning for HTS implementation from its inception, Satcom Global Aura was developed with Velocity ready hardware that will allow both existing and new customers to leverage the capacity advantages of both HTS and standard Ku-band beams, once the migration is complete next month. The migration will also bring additional benefits such as access to enhanced support and control functionality, without the need for any hardware swap-out or on-board visits, allowing customers to seamlessly access state of the art satellites.
With excellent feedback from maritime technological leaders such as Euronav, Parakou and Zodiac Maritime, Aura is fast becoming a VSAT solution of choice, giving the maritime community a high performance, yet affordable option, for taking fleet communications to the next level.
Ian Robinson, Chief Executive Officer at Satcom Global, commented that through the course of 2018 they will add three High Throughput Satellites (HTS) to the Aura network, and the availability of unlimited data at higher speeds will see many customers who have not yet moved to VSAT technology, do so. Aura VSAT is fully HTS ready, ensuring a seamless pathway to leverage the advantages of a hybrid Ku- HTS and wide beam network.
Using the coverage of satellite networks including SES, Intelsat, Eutelsat and JSAT, Aura offers a market leading global high-capacity Ku-Band network supported by a comprehensive suite of Value Added Services and a range of back-up options, including Iridium Certus.
Soon to become the market's fastest L-band service, Iridium Certus will bring its next level back-up to Aura with its Pole to Pole coverage and speeds capable of up to 700kbps. With a high throughput connection maintained even when in back-up mode, 'business email only' policies will become a thing of the past, and data hungry activities such as web browsing will be able to continue without issue. The Aura network will continue to evolve and expand with coverage and capacity boosted in ocean areas with high demand in line with customer requirements, over the course of 2018.
Ian Robinson added that the role of connectivity is rapidly changing, and as a VSAT provider they need to be receptive to market requirements, employ agility to change and deliver what is really needed by the customer. They are seeing the appetite for big data accelerate further with internal pressures increasing for operational efficiencies delivered by real-time analysis and monitoring, as well as regulatory drivers such as the introduction of EU MRV Regulations having an impact. At Satcom Global their role is to support customers with a scalable open pipe or provide the relevant and cost effective over the top services that enable them to meet those demands.