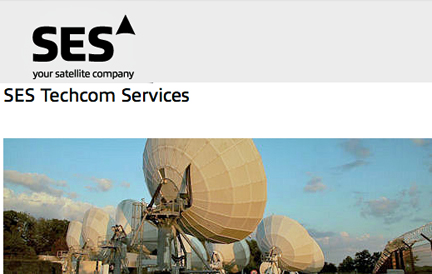 [SatNews] SES TechCom, a wholly-owned subsidiary of SES S.A. (NYSE Euronext Paris and Luxembourg Stock Exchange: SESG) and Es'hailSat, The Qatar Satellite Company registered in the State of Qatar, have signed a comprehensive consultancy service agreement.

The agreement provides Es'hailSat full access to the technical and engineering experience of SES. In the framework of the contract, SES TechCom will support Es'hailSat in the development of that company's new teleport facility. The teleport will be built on a green field site north of Doha and will be designed as a modern, state of the art facility providing satellite control and communications support (TT&C) for the Es'hail 2 satellite, as well as offering up-linking and reception facilities tailored for Es'hailSat's business partners.
The teleport will be designed from the outset to allow for significant future growth, and will feature all major requirements in order to provide customers with comprehensive satellite ground station and platform services. During the course of the contract, SES TechCom will work closely together with Es'hailSat's project management team and their selected contractors, in order to create a new and exciting satellite facility for the future of Qatar's communication infrastructure.
Ali Ahmed Al-Kuwari, CEO of Es'hailsat, said, "The establishment of our own teleport in Qatar is an integral part of the Es'hailSat program, giving us a secure and independent satellite infrastructure. It marks another key milestone in our plan to become a leading satellite operator and center of excellence in the MENA region.
Gerhard Bethscheider, Managing Director of SES TechCom, said, "SES operates several of the largest and most successful teleports in the world—this initial contract has the potential to foster a long standing partnership between our two organisations."
The SES TechCom infosite may be accessed at http://www.ses.com/techcom
Es'hailSat's infosite is available at http://www.eshailsat.qa