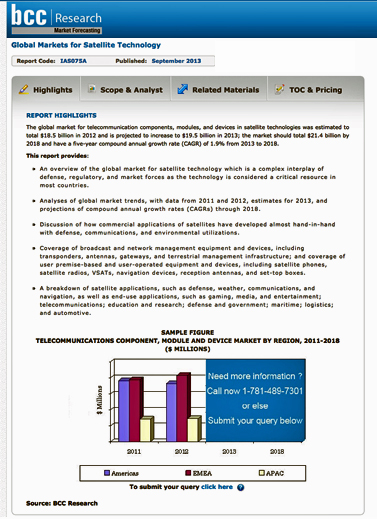 [SatNews] Telecommunication components, modules, and devices are integral to the crucial "eye in the sky" and data-relay functions that satellites perform for businesses and governments worldwide.
At the ground monitoring-and-control level, telecommunication technologies help to control the satellite, transfer payload data, and allow end users to communicate with these satellites. Continuing developments in satellite functionality and demand as well as advances in end-user side applications will shape growth in this market for the foreseeable future.
BCC Research provides an in-depth analysis of the global markets for telecommunication components, modules, and devices used in satellite technologies through its report Global Markets for Satellite Technologies. According to the report, this market was estimated at $18.5 billion in 2012 and is expected to reach $19.5 billion in 2013. BCC Research projects the market to grow to $21.4 billion by 2018, and register a five-year compound annual growth rate of 1.9% from 2013 to 2018.
Use this report to:
Gain an overview of the global market for satellite technologies, which is a complex interplay of defense, regulatory, and market forces as the technology is considered a critical resource in most countries.
Analyze global market trends, with data from 2011 and 2012, estimates for 2013, and projections of CAGRs through 2018.
Understand how commercial applications of satellites have developed almost hand-in-hand with defense, communications, and environmental applications.
Assess coverage of broadcast and network management equipment and devices, including transponders, antennas, gateways, and terrestrial management infrastructure; and coverage of user premise-based and user-operated equipment and devices, including satellite phones, satellite radios, VSATs, navigation devices, reception antennas, and set-top boxes.
Review comprehensive company profiles of major players in the industry