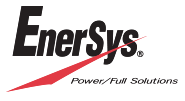 EnerSys®'s (NYSE: ENS) ABSL™ Power Solutions Inc.'s (ABSL) lithium-ion battery used on NASA's Parker Solar Probe remains successfully on its way to commence its mission. The Parker Solar Probe was successfully launched into orbit aboard a Delta IV-Heavy with Upper Stage from NASA's Kennedy Space Center at 3:31 a.m. EDT on August 12, 2018. The incredible speed of the Parker Solar Probe boggles the mind as speeds past the sun at 125 mile per second.
The ABSL lithium-ion battery provides power for the spacecraft's flight and scientific instrumentation as it orbits the sun 24 times over the seven-year mission span. The battery has a 25 Ampere Hour (Ah) capacity through a 28-Volt system and is designed to perform a variety of charge and discharge cycles over the complete mission duration.
The Parker Solar Probe spacecraft, built by Johns Hopkins University Applied Physics Laboratory (APL) in Laurel, Maryland for NASA®, carries advanced instruments that take detailed measurements of the sun from space. This mission will advance scientists understanding the sun's processes that heat the corona and accelerate the solar wind, solving two fundamental mysteries that have been top-priority science goals for many decades.
At closest approach, Parker Solar Probe will zip past the sun at 125 miles per second, protected by a carbon-composite heat shield that must withstand up to 2,500 degrees Fahrenheit and survive blasts of radiation and energized dust at levels not experienced by any previous spacecraft. It will spend a total of seven years circling the sun and reach a speed of 430,000 mph in its final orbits, making the Parker Solar Probe the fastest object ever built by humans. Due to these extreme operating conditions, the ABSL battery design and component testing had to account for various new mechanical, magnetic, and thermal challenges.
Mark Matthews, Vice President for the EnerSys Advanced Systems division stated they are very proud of their multiyear involvement in the Parker Solar Probe mission and the important data that the mission will deliver. Mark added that their ability to support this mission is a credit to ABSL's constant drive for engineering excellence in balancing demanding requirements such as deep discharges, longer cycle life, unique battery shapes, and packaging to survive intense vibration environments.