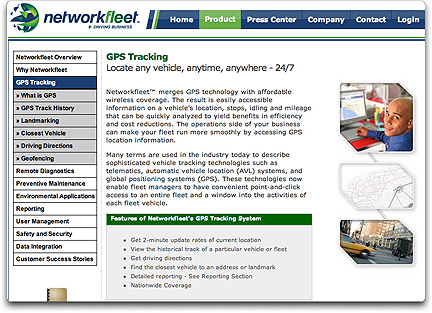 Now Networkfleet, Inc. really can track their vehicles with high-resolution satellite and hybrid maps in its flagship Networkfleet wireless fleet management system.
The new mapping capability gives fleet managers the ability to observe vehicles in a real-world setting with
3-D Earth imagery
. This new functionality provides a more accurate and realistic depiction of a vehicle's location and its geographical surroundings.
Networkfleet combines GPS vehicle location tracking with precise diagnostic monitoring to give fleets a complete and accurate picture of their vehicle operations.
With the new mapping capability, fleet managers log in to a secure web site and observe vehicles on a street map, a satellite map, or a combination hybrid map. They can also use the new mapping capability to more easily set up landmarks and establish geofences.
"At Networkfleet, we are continually adding new functionality to our product based on feedback from our large user base," said
Keith Schneider
,
president of Networkfleet
. "
Fleets of all sizes and types are looking to partner with Networkfleet because of our stability and long term market perspective. Satellite mapping is another of our ongoing enhancements designed to help fleet managers better understand how their vehicles are being used.
" The enhanced mapping functionality is immediately available to Networkfleet subscribers and new users via its Web-based Networkfleet wireless fleet management system.