Inmarsat Government has successfully supported the 2016 Heard Island Project, a multidisciplinary expedition to a remote island in the Southern Ocean.

The purpose of this three-week expedition, undertaken by Cordell Expeditions, a nonprofit research organization based in northern California, is to provide new information about Heard Island's harsh volcanic environment and to validate satellite communications in severe, and extremely isolated, environments in the Antarctic. The Heard Island Project's goal is to bring technology to solve the challenges of projects that are of worldwide need and interest. The results from this expedition will help scientists better understand the effects of climate change in polar regions and the ability of models to predict the consequences of actions or inactions in facing this challenge.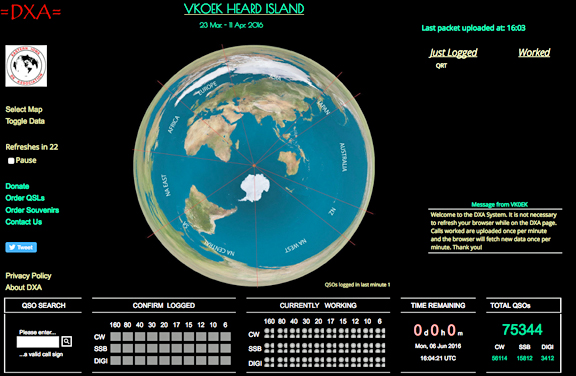 Other areas of focus included: searching for unknown species that may have been revealed by recent major glacial retreat; confirming the group's recent discovery of subterranean rivers carrying glacial meltwater; documenting plastic debris from sources worldwide; and collecting samples of the environment that are expected to contain cryptobiota – organisms that have the ability to suspend metabolism for years or decades in the face of extreme conditions of cold, heat, desiccation or toxic chemicals.

Inmarsat Government provided satellite communication services used to enable radio propagation analysis, TV broadcasts, video secondary school classroom education, video communication and blogging. During the expedition, Inmarsat's reliable and easy-to-use Broadband Global Area Network (BGAN) service kept worldwide followers updated promptly of expedition activities. Inmarsat Government provided terminals and managed communication services to support the base station and remote scientific teams collecting samples and important documentation of the environment including its unique flora and fauna.

Inmarsat's BGAN service played a key role in the expedition's radio science (medium frequency (MF) and higher frequency (HF) propagation experiments) as they contacted over 75,000 other stations during unusual solar geomagnetic conditions. It also enabled reliable communications with the science teams when they traveled to a number of areas remote from the base camp to gather samples (that will go to universities for analysis of lava content, biota, glacier stream chemical composition and more) and conduct high resolution ("Gigapan") photography of the many unusual features here.
The group carried out a major amateur radio operation using the call sign VKØEK. Unlike any other similar amateur radio operation, the Cordell Expeditions group developed a unique technology that enables near real-time Internet display of the radio operations. The system, called DXA, uploads the radio log data through Inmarsat satellites to an Internet server once per minute, providing viewers with an almost real-time graphical interface to the expedition. DXA was first deployed on an expedition to Kure Atoll in the Pacific in 2005 and then on a second expedition to Clipperton Island in 2013; on both expeditions, the DXA website received 40 million hits, attesting to its popularity and the value of real-time data from the expedition. The latest version (DXA3) was deployed on Heard Island; it can be seen on line now at dxa.vk0ek.org.

According to Kenneth Karr of the Heard Island Expedition, Inmarsat Government's support helped advance the use of satellite communications from this extreme, isolated, environment in the sub-Antarctic region. A qualitatively better capability for the expedition to communicate their activities to the general public, ensure safety, and provide for real-time interactive scientific collaboration provided the availability and reliability of Inmarsat's satellite communication services to full benefit. He hadded that the Inmarsat comms helped facilitate conferencing for scientific collaboration and emergency response as well as the ability to upload archival images and data in the most challenging weather conditions that included high winds, driving snow, and the sleet and volcanic grit that blows with the wind, which, at times, reached 80 mph.