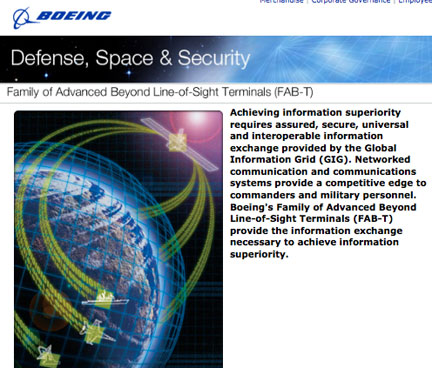 [SatNews] The Boeing [NYSE: BA] Family of Advanced Beyond Line-of-Sight Terminals (FAB-T) team recently completed...
...a combined preliminary design review and critical design review with the U.S. Air Force, representing significant milestones for the program. The reviews occurred at the same time the company began internal software deliveries that will enable new capability requirements that were added to the contract earlier this year. These achievements come after the program was converted to a firm-fixed-price contract in late April.
The combined design reviews validated design enhancements to add Presidential and National Voice Conferencing (PNVC), which, when complete, will be a worldwide, survivable, secure satellite-based capability used by the president, secretary of defense, chairman of the Joint Chiefs of Staff and other senior U.S. national and military leaders for secure communications. The design reviews also covered engineering changes required to synchronize the terminals with changes on the Advanced Extremely High Frequency (AEHF) satellites. Once operational, FAB-T also will relay the commands that control the AEHF and legacy Milstar constellations.
Completion of the combined reviews also cleared the way for the software teams to begin "drops," or internal software deliveries. The first such drop, which streamlined the FAB-T architecture by removing a number of interfaces that are no longer required, has already been completed. Other drops scheduled for the coming months will continue the satellite-terminal synchronization process and the addition of PNVC capability. Under the current FAB-T program, Boeing will develop nuclear-survivable terminals capable of using multiple waveforms and communicating with both the AEHF and the legacy Milstar satellite constellations. These development terminals will operate in fixed and transportable ground installations and aboard B-2 and B-52 bombers, RC-135 reconnaissance aircraft, and the E-4B National Airborne Command Post and E-6B "Take Charge and Move Out" aircraft fleets.