Ayecka Communication Systems, located in Kfar Saba, Israel, is showcasing their RFModem at IBC2017 — the RFModem incorporates satellite technologies such as DVB-SX2, DVB-RCS2 and FSIM/ESSA.
Ayecka claims such support provides the highest efficiencies, coupled with an ultra-low form factor and the ability to operate on any VSAT network. The company describes this product as a 'complete, all-outdoor VSAT device,' designed for consumer internet, interactive TV and IoT networks.
The RFModem is targeted at the satellite TV ecosystem, providing the return link that is now considered essential, and enables the upgrade of legacy satellite TV from linear TV to the OTT era. It is included in products such as Eutelsat's SmartLNB. Ayecka's products process IP data delivered over a satellite link in a specially designed FPGA ASIC, which the company claimed would enable the processing of the maximum possible DVB-S2 channel rate without any packet-per-second or Mbps limitations.
Dr Avinoam Graber, CEO, Ayecka, stated that the RFModem's ultra-small form factor and ODU robustness, coupled with the unit's seamless integration into modern IoT networks, provides an ideal solution for mass deploymentof IoT gateways anywhere around the globe.
The company has also designed, developed and is producing their Smart LNB, in cooperation with Eutelsat.
SmartLNB is the next-generation interactive satellite terminal and is currently, according to the company, the most integrated and advanced CPE for consumer and IOT services. SmartLNB is powered by Ayecka's RFModem technology and has been developed in partnership with Eutelsat. SmartLNB operates with Eutelsat SmartLNB network, providing transactional random access scheme with exceptional bandwidth utilization as compared to any other solution.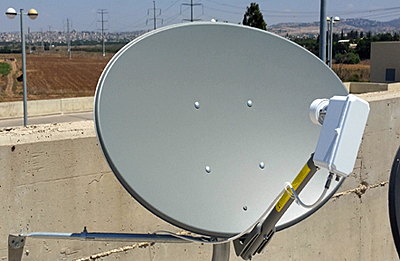 SmartLNB has Ku- reception for TV signals and broadcast data and Ka- transmission for transactional-message-based, random traffic profile for large networks. The terminal is low in CAPEX (Terminal cost < %99) and low in OPEX (the cost of messages is comparable to cellular network cost). The system provides high network availability, closed-network with SLA.
SmartLNB technology includes the following main aspects:
All Out Door Unit (ODU) design, containing the complete communication system:
Antenna Feed (Co-centric Ku/Ka)
Direct Conversion RF from BaseBand to Ka band
Integrated LNB system
Linux Based Router

DVBS2 + ESSA Modem (Enhanced Spread Spectrum Aloha)
Ethernet Over Coax
Single Coax to the Home
Self-Install Technology
Ayecka's advanced modems are designed to provide high throughputs similar to those obtained by the legacy "SCPC" with the low prices of "VSAT" technology, combined with the addition of highly efficient ACM ("Adaptive coding and Modulation") technology. Ayecka's focus on satellite IP delivery, DVBS2 standard and video over IP has led to the development of several cutting edge technologies:
Ayecka's products process IP data delivered over a satellite link and employ the company's proprietary hardware Accelerator implemented in a specially designed FPGA (Field Programmable Gate Array), which enables the processing of the maximum possible DVBS2 channel rate without any PPS (Packet Per Second) or Mbps limitations. Ayecka's patented method for delivering ACM over satellite for legacy networks is currently the most economical way to upgrade legacy DVBS and DVBS2-CCM (Constant Coding Modulation) networks to the advanced bandwidth efficient DVBS2-ACM. This method has been granted a patent by the U.S. Patent Office.
Ayecka has worked with U.S. scientists to develop advanced FEC (Forward Error Correction) solutions for DVBS transmission to overcome pulse noise generated by electronic warfare systems, thereby overcoming TV signal blockage caused by such systems.
Ayecka provides a full set of products for the narrowband message-based solutions on the one hand and for SCPC market and professional VSAT networks on the other hand.