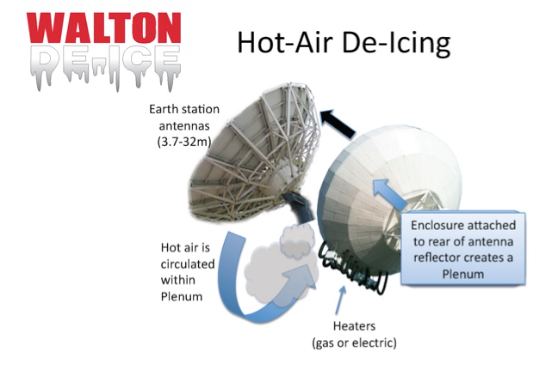 Ice is a satellite's enemy and eliminating and preventing it takes a great deal of research and talent. Walton De-Ice will be at booth #1619 at Satellite 2017 with some of their most recent solutions to prevent ice buildup on Earth station antenna and reduce the risk of signal problems.
The Walton Team will reveal how their De-Ice works on Earth station antenna, and their improved De-Icing system for 3.7 - 32 m. antennas.
The Walton Hot Air De-ice system is designed to prevent snow and ice from accumulating on an Earth station antenna. The company's patented invention uses a Plenum enclosed on the rear of the antenna. Heaters (gas or electric) located on the antenna structure heat and circulate air inside the Plenum, which rapidly heats the reflector surface. This prevents snow and ice from accumulating and degrading or breaking satellite links.
Unlike Electric Pad or Heat Tape or similar Anti-ice solutions, the Walton Hot Air De-Ice system heats the entire antenna reflector and back structure, and uniformly distributes the heat. This minimizes the chances of reflector distortion caused by thermal expansion and contraction—and therefore reduces the risk of resulting signal problems.
Also unlike Electric Pad, Walton De-Ice provides flexible options to select the most cost-efficient heating energy source for businesses, whether electric, natural gas, or liquid propane gas heaters.