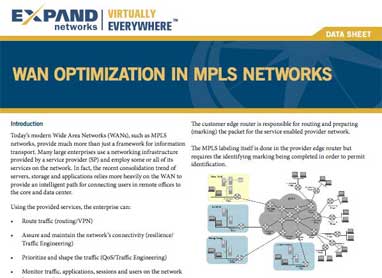 [SatNews] SATCON this week in New York City, October 12-13th will be jam packed.
Expand Networks, supplier of WAN Optimization products for satellite networks in the public and private sector, will demonstrate innovative optimization techniques that enable telecommunications service providers to deliver
cost-effective broadband service with outstanding application performance and user experience over satellite networks in rural, remote and harsh environments.
Broadband is indispensable to the digital economy, and rural areas rely on satellite connections to deliver broadband service for public safety communications, telehealth, distance learning and economic development activities.
Howard Teicher,
Vice President, Americas
, explains, "Governments around the world are pursuing broadband initiatives to close the digital divide and stimulate economic development in rural communities. In the US, the broadband plan emphasizes the delivery of connectivity to rural areas. In many of these locations, satellite is the only viable option. But to deliver acceptable broadband speeds and SLAs (Service Level Agreements) to remote locations via satellite, service providers must overcome the cost, congestion and latency issues inherent in satellite communications."
Latency and jitter are physical characteristics of networks which degrade application performance and can cause even high speed links to provide an unsatisfactory experience to end users.
Expand Networks SCPS (Space Communication Protocol Standard) based TCP Acceleration with the Hybla congestion avoidance technology mitigates the effects of dynamic latency and congestion for full utilization of satellite links in the most demanding environments. At the same time Expand's compression, byte-level caching and Layer 7 QoS, accelerates network performance while enhancing user experience.  
WAN Optimization enables multiple end-users, accessing the network simultaneously, to experience LAN-like performance
at network end points using voice, video, data transfer and other bandwidth-intensive applications, without degradation in application performance, regardless of the end user's remote physical location.
"Depending on the environment, Expand Accelerators can make 128kbps behave like 1MBps. This level of optimization enables satellite providers to satisfy their customers with virtual bandwidth that delivers more robust performance and capacity at lower cost, ultimately saving tax payer and consumer resources." continues Teicher.
A key enabler for emergency and public service organizations operating in rural areas, WAN Optimization allows public safety organizations to use satellite to deliver broadband services at lower tax payer expense.
Clear Creek County Sheriff department recently chose Expand and Clear Channel Satellite for its Back-Country Communications Solution. The system is comprised of optimization technologies from Expand and delivered by Clear Channel Satellite.
Bob Exum
,
Sales Engineer for Clear Channel Satellite
stated, "The system we've developed for the Clear Creek County Sheriff will assist deputies in responding to, and managing incidents throughout their county and, for the first time, it will allow for critical communications from difficult areas where it was never available before."