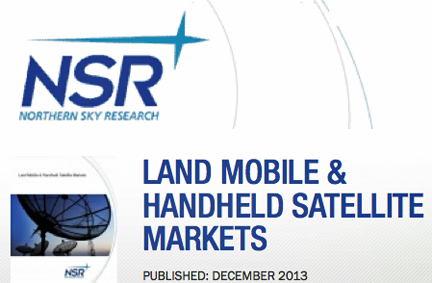 [SatNews] NSR's newly released Land Mobile & Handheld Satellite Markets report finds steady growth in the aggregate market, sustained by three traditional segments, namely Comms-on-the-Pause (COTP), Traditional Handhelds and SCADA/M2M.
New offerings such as the Consumer Handhelds, the SatSleeve and Push-to-Talk (PTT) likewise contribute to revenue generation over the long term, albeit in a secondary role. In 2012 revenues stood at $3.8 billion with traditional offerings accounting for 97 percent of the global total. By 2022 the market is expected to reach $9.0 billion with traditional solutions losing market share, yet still dominant at 82 percent. The market benefited from the introduction of new solutions that have led to increased market penetration, particularly in the consumer segment. Globalstar's SPOT product is a case in point where hundreds of thousands of devices have reached consumers over a relatively short period of time. In the long run, more devices and form factors are likely to enter the marketplace that feature data-centric applications and lower costs compared to so-called traditional solutions.
Penetrating the consumer market is no small feat in the satellite industry, and new solutions are definitely leading to healthy revenue streams. "However, despite an expected high take-up of new devices and services, the bulk of revenues are still expected to come from traditional offerings," according to the study's author Jose Del Rosario, Senior Analyst for NSR. Traditional solutions such as COTP for military use generate much higher ARPU levels compared to consumer-oriented devices. For instance, COTP accounted for just 3 percent of in-service units in 2012 but generated 33 percent of overall revenues. "In a sense, traditional solutions are the bedrock of the land mobile market, while new form factors and the risk-taking involved in targeting consumers can and do contribute to the industry's revenue streams. As such, industry players are treating the consumer market as a revenue enhancement mechanism to enhance long term prospects," said Del Rosario.
More info at this direct infopage link.