According to Dataxis latest research, payTV in LATAM is forecasted to reach 79.3 million homes in 2023.
Although Dataxis predicts that 8.5 million new payTV customers will be added, compared to 201, it is a conservative evolution. As a result, TV subscriptions will not exceed 40 percent of households with a TV set.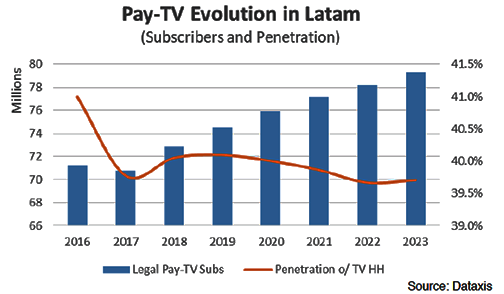 Several factors influenced the payTV evolution, namely: the economic instability of the region, certain countries of great volume have already reached a saturation point and the down fall of Brazil (used to be the power within the region). However, this stagnation situation is not reflected in other services. For example, fixed broadband did not stop its march and, in 2017, it has already outpaced payTV .
Dataxis highlights that Mexico will hold 28.9 percent of payTV customers and will continue to be the largest market in the region. Brazil will be very close with 28.2 percent, with Argentina, Colombia, Chile and Peru accumulating 26.5 percent of payTV subscribers. Central America, Bolivia and Paraguay will be the fastest growing markets due to their low rates of service penetration.