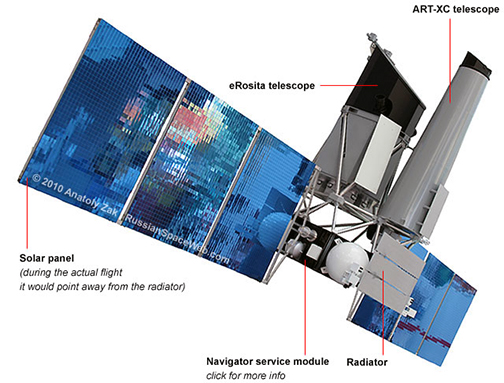 On July 13, Russia succeeded in launching their Spektr-RG space telescope.
The satellite, aboard a Proton-M rocket, was lifted to orbit from the Baikonur Cosmodrome. This is a joint Russian-German mission, with the telescope weighing in at 2.7 tons. The space observatory will be positioned approximately 1.5 million kilometers (900k miles) above Earth and will require nine months to reach its destination.
The Spektr-RG will replace Russian's Spektr-R spacecraft that was lost earlier this year. That telescope, also known as the "Russian Hubble," was designed to study black holes, magnetic fields and neutron stars — the acquired data would then assist experts in a further understanding of cosmic expansion. The prediction is that the telescope will uncover some three million, super-massive black holes during its expected 6-1/2 year lifespan as well as 100k galaxy clusters that populate the known universe.
The Spektr-RG will take up the former spacecraft's work as well as develop a high-resolution map of the sky. The Russian Space Agency stated that the observation of space by Spektr-RG marks a new stage in X-ray astronomy and will enable year-round observation of nearly the entire celestial sphere.