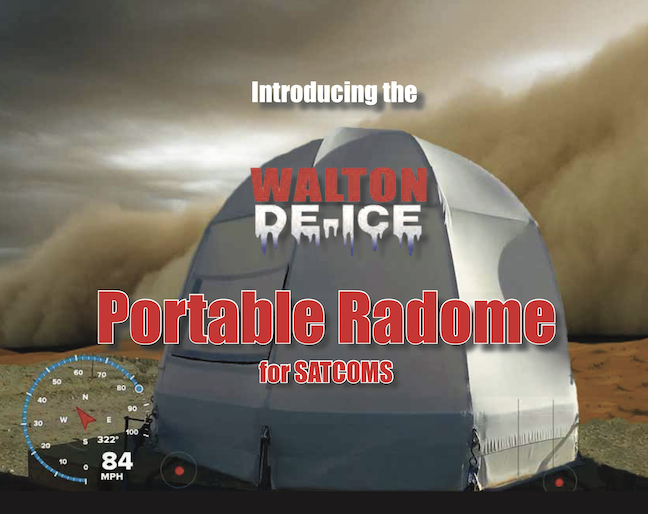 Walton De-Ice has the solution to the issue of antenna operation in extreme and harsh environments such as ice, rain and sandstorms. The Portable Radome with Optional De-Icing is available for for Earth Station and VSAT Antennas | Coms-on-the-Pause (COTM).
Traditional antenna radomes are not built for transportable operation, yet many of today's military, first-responder, and oil & gas applications on land can require deployable systems where harsh elements demand radome-like protection.
Walton De-Ice's new Portable Radome is designed to protect satellite terminals for applications such as transportable, coms on-the-pause (COTP), first responder, vehicular and similar VSAT and smaller Earth station sites. Walton's solution design is also resistance to high winds. It also supports permanent installations and SNGs, and LEO/MEO gateway terminals.
The rapid set-up Walton Portable Radome design opens up new possibilities for operations in extreme environments, plus significant cost-savings compared to traditional antenna radomes.
Satellite Frequency bands:
C-Band
Ku-Band
X-Band
Ka-Band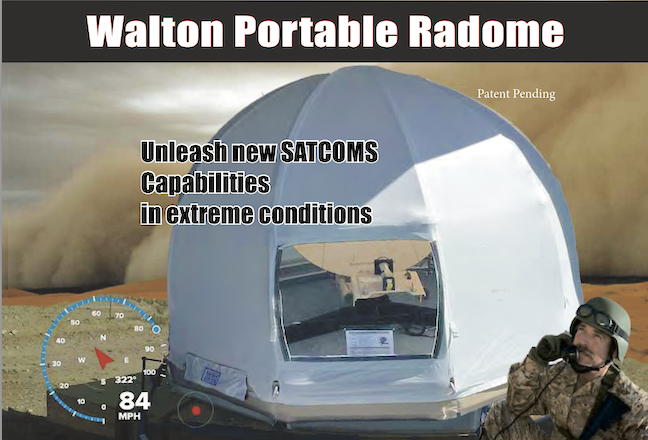 Walton's Portable Radome uses RF transparent hydrophobic Architectural Fabric cover materials that maximize protection and minimize antenna G/T reduction.
The Portable Radome can stand up against strong winds, and is designed to support operation during 85 mph (136 kph) wind conditions.
The Walton Portable Radome eliminates the need of manual snow removal. Conventional radomes cannot be de-iced by heat transfer through the radome's material. To solve this problem, manufacturers offer a "Snow Rope" option that allows workers to manually remove the snow from a conventional radome.
This process is not needed with Walton's solution can be kept ice-free automatically using Walton De-Icing systems. The heat easily transfers through the Portable Radome to keep the Radome free of any ice or snow, with no strings (or snow ropes) attached.
In very hot climates, the Radome and air it surrounds could be cooled using a forced air/HVAC system to protect equipment temperatures underneath the Radome and prevent damage.
Depending on the antenna size, the Walton De-Ice system shipping cost is reduced and can be installed using less labor and expense, in just hours where a comparable size conventional radome takes a day or two with a crane.
Despite its portability and rapid deployment advantages, the Walton De-Ice Portable Radome system can also be installed as a permanent/fixed site system.
The Portable Radome designs enable significantly lower cost-of-acquisition than conventional radomes and with the aforementioned cost-savings and survivability, the Walton Portable Radome should become an essential element of the kit that ground segment designers and integrators need to consider for military, first-responder, and similar deployable satellite networks that need to work in extreme environments on land. LEO/MEO ground networks with polar region gateway requirements can also leverage the Portable Radome for its advantages in cost and labor-savings.
Assembly Parts
A 2.2' x 1.7m' Portable Radome model is weighs under 45 kg. It is designed so that two persons can assemble or dismantle it in less than an hour. No tools required.
Walton's Portable Radome will be offered for civil or military applications offered as follows:
White for Ka-Band (PTFE Architectural Fabric)