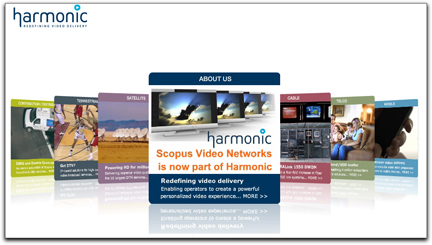 Harmonic Inc. (NASDAQ: HLIT) has announced that China Network Systems Co., Ltd. (CNS), one of Taiwan's largest cable video service providers with more than 1 million television subscribers, has selected Harmonic's advanced digital video solutions for an MPEG-4 AVC (H.264) network upgrade that enables CNS to substantially expand its HD and SD digital service.
CNS
' new
H.264
offering will include 10 HD and 112 SD channels, scheduled to be launched later this year to subscribers in Taipei and other highly populated regions in northern and southern Taiwan. CNS also utilizes a range of Harmonic's HFC transmission solutions in its cable infrastructure. Harmonic's portfolio of digital video solutions provides CNS with unmatched video quality and bandwidth utilization, numerous operational efficiencies, and a very powerful and flexible platform to support new revenue-generating services. The extensive range of technologies selected by CNS for this project include:
DiviCom Electra® 7000 HD
and
Electra 5400 SD
encoders,
ProStream™ 1000
stream processors with
DiviTrackIP
™ distributed statistical multiplexing,
Broadcast NSG™ 9000 edgeQAM
s, and
NMX Digital Service Manager
™.
HwaCom Systems Inc
., a
Harmonic
reseller in Taiwan, is providing local support and technical integration services for this upgrade. Harmonic will be displaying its digital video solutions, including those deployed by CNS, at
CommunicAsia 2009
, stand
4L3-01
, June 16-19, in Singapore.
Additionally,
Public Television Service Foundation
(
PTS
) has selected
Harmonic
's MPEG-4 AVC (H.264) digital video technologies for the rollout of Taiwan's first HD and SD H.264 terrestrial broadcast service. PTS produces and transmits free public television programming to viewers throughout Taiwan via its DVB-T terrestrial network. PTS' new video service — powered by Harmonic's
DiviCom Electra® 7000
and
5400
encoders,
ProStream™ 1000
stream processing platform with
DiviTrackIP
™ distributed statistical multiplexing, and
NMX Digital Service Manager
™ — was successfully launched earlier this year. PTS was founded in 1998 as a terrestrial television channel, and in 2006 was charged by the Taiwanese government with developing an HDTV transmission station. PTS today produces a range of high-quality, independent content, including local and national news programs, documentaries, dramatic films, children's content, and other critically acclaimed programs.