Orbit Logic has been selected for a Phase I Small Business Innovation Research (SBIR) special topic contract sponsored by the United States Air Force Research Laboratory (AFRL) to develop innovative solutions for space data analytics to include data fusion, artificial intelligence, and machine learning.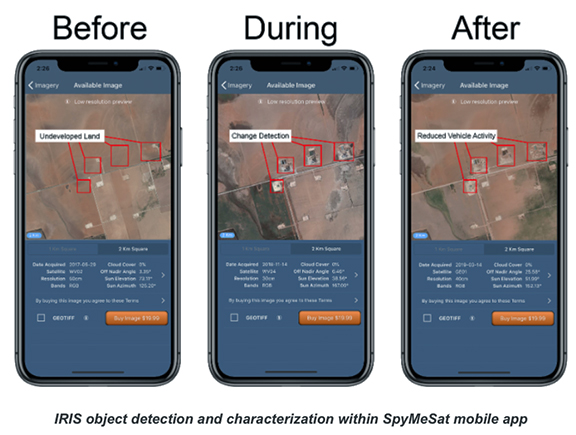 The team will be extending the capabilities of Orbit Logic's existing COTS solution to create Image Recognition in SpyMeSat (IRIS) updating the SpyMeSat mobile app and supporting server that enables browsing of multiple commercial satellite imagery archives, imagery downloading, and new tasking of imaging satellites.

During Phase I of the SBIR, Orbit Logic will give SpyMeSat a means to provide automated satellite-based site monitoring and analytics through the use of imagery made available through DigitalGlobe, Planet, and KOMPSAT archives. Orbit Logic's SpyMeSat mobile app will be integrated with an object characterization filter editing environment that allows users to customize change detection, object recognition and image segmentation filters to apply to their imagery.
The first use case is automated monitoring of natural gas extraction sites to collect data on fracking activity across thousands of locations. Other use cases exist in urban planning, agriculture analysis, and maritime tracking as well as monitoring military assets and identifying objects of interest such as tanks and aircraft.