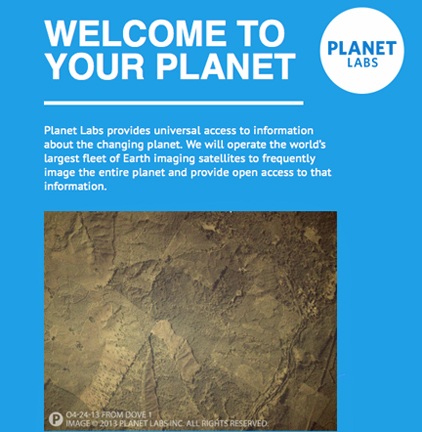 [SatNews] Planet Labs has successfully launched its most recent satellites, Dove 3 and Dove 4, into orbit via a Russian Dnepr vehicle.
This launch will be closely followed by the launch of Planet Labs' "Flock 1" fleet of 28 satellites in December, which will be the largest constellation of Earth-imaging satellites ever launched.

"This is the third rocket launch for Planet Labs this year, and the Dove 3 and 4 satellites are the most advanced and agile satellites we have built to date" said Chris Boshuizen, co-founder and CTO of Planet Labs.
Planet Labs' Flock 1 satellites were delivered this month to NASA Wallops Flight Facility in Virginia for launch on board an Antares rocket in December. These satellites were built in production at the Planet Labs headquarter offices in San Francisco. Planet Labs is on track to launch 32 satellites on four different launches in 2013.

"The delivery of Flock 1 is an important milestone for both our team and the industry," said Will Marshall, co-founder and CEO of Planet Labs. "The latest generation of satellites will enable us to image the whole globe at high frequency, producing an unprecedented data set that will unlock huge commercial, environmental and humanitarian value."

Planet Labs Inc. is a purpose-driven space and data analytics company based in San Francisco, California, Earth. The company operates large fleets of Earth imaging satellites, to image the entire planet at an unprecedented frequency. Planet Labs aims to provide universal access to information about the changing planet to enable both commercial and humanitarian applications. Founded in 2010 by former NASA scientists, the team includes engineers, developers, and leading venture capital investors.