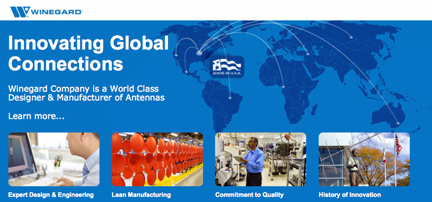 [SatNews] Winegard has designed and developed a self-contained, rugged, and transportable 1.2 meter skid system for UK-based Hermes® Datacomms.
The unit is designed to be used in remote and hostile environments. The extremely small footprint skid allows the unit to be transported in a pickup truck. It's ideal for mobile rigs, construction sites and emergency response teams. A U.S. based manufacturer of extremely rugged, reliable and value-priced VSAT satellite communications systems, Winegard is globally recognized for its abilities to design, engineer and produce all types of custom antennas, mounts and skid systems. The transportable skid was specifically designed for the harsh environments encountered in the oil and gas industry. Hermes uses Hermes Connect for land-based drilling sites. Currently, Hermes is using the Winegard transportable skid in Australia, and soon in Libya and Egypt. Hermes will also be demonstrating the unit in Siberia.
The ease of transporting this skid makes it extremely mobile. The small footprint allows it to be transported in a variety of vehicles easily from site to site. In addition, a built in GPS compass enables the system to deploy automatically in new locations. Another feature of the transportable skid is the environmental flexibility. The robust design enables the system to withstand the harshest of conditions. The durable skid helps prevent damage to the self-contained electronic components. In addition the unit is designed with a heating system and Solid State Peltier cooling device. Due to the self-contained nature of this product it does not need to rely on a site with an indoor facility. Therefore, this avoids trouble associated with managing coaxial cable runs across busy, temporal sites. The unit can be connected wirelessly or with a standard data cable.
This totally self-contained skid is easy to use. It features automatic one button deployment and satellite acquisition upon startup. All that is needed is to power and activate the unit and it will connect with the internet or private voice and data networks in 3 to 5 minutes. The Winegard transportable skid is mobile, environmentally flexible, easy to use and also cost effective. The efficient design has allowed Hermes to lower maintenance costs, deployment costs and reduced bandwidth costs.
The antenna skid system is being introduced at the Satellite 2014 Conference & Exhibition, March 11 – 13, held at the Walter E Washington Convention Center, Washington, DC, booth #4061.
The Winegard infosite is located at http://www.winegard.com/