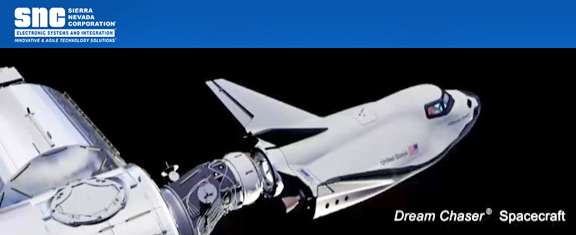 [SatNews] Sierra Nevada Corporation (SNC) has amended its current Space Act Agreement (SAA), adding a significant development milestone to the Commercial Crew Integrated Capability (CCiCap) partnership with NASA.
The amendment, which extends the period of performance through March 2016, introduces unfunded Milestone 41, Design Analysis Cycle-6 Closeout Review—demonstrating the advancement of the Dream Chaser® Space System design from a Preliminary Design Review (PDR) level of maturity toward a Critical Design Review (CDR) level.
The Dream Chaser has been under development in partnership with NASA's Commercial Crew Program since 2010. SNC's Dream Chaser is the only reusable, lifting-body, low-g, and runway-landing-capable spacecraft in the world. It offers a reliable, cost-effective solution for transportation of crew and cargo to low-Earth orbit.
"We are eager to continue our work with NASA on development of the Dream Chaser Space System and appreciate NASA's continued support of our program," said Mark N. Sirangelo, corporate vice president, SNC's Space Systems. "Agreeing to extend the SAA is recognition by NASA of the unique value of the Dream Chaser lifting-body vehicle. As the only runway-landing, piloted space vehicle in development, Dream Chaser provides the opportunity to preserve the U.S. legacy of 30 years of space shuttle and lifting-body experience. The continued agreement and addition of the Closeout Review milestone ensures the entire Dream Chaser Space System continues its path forward to CDR maturation."