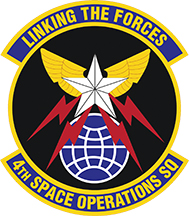 The U.S.A.F.'s 4th Space Operations Squadron accepted control of a new satellite in their constellation, Advanced Extremely High Frequency-4 from the Space and Missile Systems Center and 14th Air Force in a satellite control authority ceremony at Schriever Air Force Base, Colorado.

Second Lt. Scott Podlogar, 4th SOPS satellite engineer, said the ceremony designates who has the authority to operate the platform and said the agency accepting control is responsible for maintaining the health and safety of the satellite as well as making sure it accomplishes the mission it is designed for.
According to Amanda Shepherd-Bond, 4th SOPS satellite spacecraft engineer and event coordinator, the squadron increased their capability with the new addition. She noted that AEHF has increased the coverage over the Milstar satellites as well as approximately 10 times the throughput and better jam or rapid modification of radio waves resistance.
The 14th AF hosted the ceremony via teleconference, with Colonel David Ashley, SMC AEHF program manager, Lieutenant Colonel Paul Freeman, 50th Operations Group deputy commander, Juan E. Cruz, 14th Air Force mission warning program analyst and Lieutenant Colonel Armon Lansing, 4th SOPS commander in attendance.
During the ceremony, the SMC approved AEHF-4 as being ready for operations, handing control to the 14th AF, who delegated control to the 50th Space Wing, then to the 50th OG and finally to the 4th SOPS.
Shepherd-Bond said the addition of another AEHF platform is significant for 50th SW operations as a whole because it increases coverage across air, land and sea for range communications and greater crosslinking capability. She said that AEHF already supports numerous mission operations including space and intelligence, nuclear and defense, theater mission defense and special operations.
4th SOPS furthers the mission by evolving space and cyberspace warfighting superiority through integrated and innovative operations.
The satellite is the fourth AEHF on-orbit and increases the warfighting superiority of the customers supported by 4th SOPS, Podlogar noted, and commented that the addition of this satellite to the protected communications constellation further promotes Schriever and America as being the masters of space.
Story by Staff Sgt. Matthew Coleman-Foster,
50th Space Wing Public Affairs