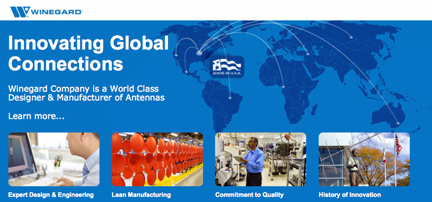 [SatNews] Winegard is working with ViaSat, Inc. (NASDAQ:VSAT) to provide the Oil and Gas Industry with a new family of Winegard satellite terminals certified to work on the ViaSat Exede® Enterprise network.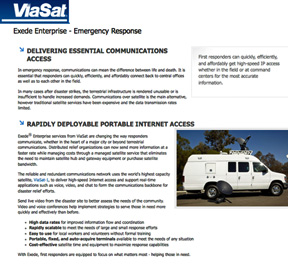 The Ka-band Exede service will provide vastly improved Internet access for exploration, drilling and production on remote sites, including offshore drilling platforms. Winegard's new antennas when used with ViaSat Exede Enterprise service will enable secure, real-time Internet communications between remote and main-office locations, improving decision-making and productivity for the oil and gas industry. The service, which can be quickly configured and deployed, is also ideal for high-speed Internet at "man camps" in remote locations. With download speeds up to 15 Mbps, Exede Enterprise service will be an enormous improvement in the speeds available compared to current oil and gas remote Internet services.
Winegard will showcase its 75cm vehicular roof mount and 1.2 meter fixed-pole mount auto-acquire antennas during Satellite 2014, being held at the Walter E. Washington Convention Center, March 11-13 in Washington, D.C., booth #4061.
"We believe our mobile/nomadic enterprise service is ideally suited for the needs of the oil and gas industry," said Dan Turak, ViaSat V.P., sales and distribution for Exede services. "Legacy technologies just can't provide the high-speed, high-capacity service needed now for remote location connectivity at affordable costs. With its many years of antenna design experience, we think having Winegard develop critical antenna products for use on our Exede network is going to lead to some great new opportunities for both of us."

Jon Manley, Winegard's president, said, "Designed with quality and durability in mind, these systems allow for single-button operation, using Winegard's proprietary, easy-to-use single coax antenna controller."
Winegard is providing ViaSat with two antenna solutions, the 75cm vehicular roof mount antenna system and the 1.2m fixed pole mount auto-acquire antenna system. Both systems offer fully automated satellite acquisition to ViaSat Exede Enterprise service. These systems provide both mobile and fixed solutions for the oil and gas industry. The 75 cm vehicular roof mount antenna system is designed and built to exceed Mil-spec standards for enterprise energy markets. Due to the system's ultra lightweight, small foot print and low stow height features, this system can be installed on most vehicles and trailers. In addition the system has an ultra-low backlash gear train design which ensures a reliable, high performing system. Winegard's 1.2 meter fixed pole mount antenna system is designed for extreme remote applications. This system can be mounted to both portable and permanent bases. It is a reliable, high performing system with multiple deployment sensors for quick signal acquisition.
For further information, please visit http://www.winegard.com/index.php