International Launch Services is preparing the Proton M/Breeze M rocket to launch the W2A satellite on April 3rd from Baikonur at 22.24 local time (16:24 GMT and 12:24 EDT).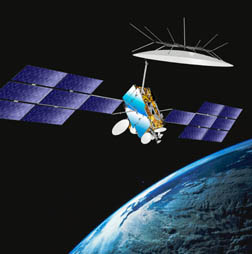 Manufactured by
Thales Alenia Space,
the satellite customer is Eutelsat Communcations. W2A has a triple-band mission (Ku-band, C-band and S-band), expanding the 10 degrees East orbital position. Extending Ku-band capacity for professional video services and telecommunications services,
W2A
will serve Europe, North Africa, and the Middle East via a fixed Widebeam footprint, and southern Africa and Indian Ocean islands via a second, Ku-band fixed beam. W2A will also increase the fleet's C-band capacity for broadband and telecommunication services in Europe, Africa, the Middle East, India, and Latin America, as well as enabling interconnections across these continents. W2A features Europe's first S-band capacity. This state-of-the-art payload will be an essential building-block for a hybrid infrastructure over Europe, combining satellite and terrestrial networks, to provide universal coverage for mobile TV services and direct communications services such as security communications or crisis management. The S-band payload will be commercialized by
Solaris Mobile
, a venture jointly owned by Eutelsat and SES Astra.
The Proton M launch vehicle, using a 5-burn Breeze M mission design, will lift off from
Pad 39
at Baikonur Cosmodrome, Kazakhstan, with the W2A satellite on board. The first three stages of the Proton will use a standard ascent profile to place the ascent unit (Breeze M upper stage and the W2A satellite) into a sub-orbital trajectory. From this point in the mission, the Breeze M will perform planned mission maneuvers to advance the ascent unit first to an elliptical parking orbit, then to an intermediate orbit, followed by a transfer orbit and finally to a geosynchronous transfer orbit. Separation of the W2A satellite is scheduled to occur approximately 9 hours, 10 minutes after liftoff.